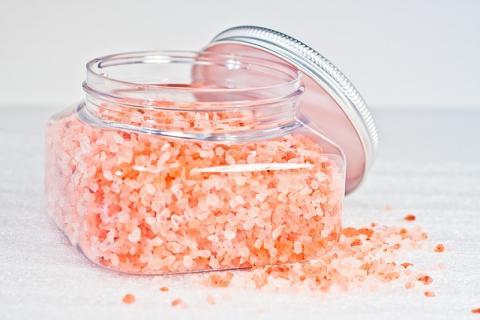 Everyone deserves a little pampering every once in a while. In fact, I make a promise to myself to try and take a relaxing bath at least once a month. Sometimes life gets in the way of that, but when I do get a chance to take a bath, it's beautiful. I personally love adding in some bath salts to my bath. They add a beautiful aroma and are great for relaxing or reviving your energy (depending on the scent). Bath soaks are kind of similar, but they're made in a different way. Recently, I became curious about how to DIY my own bath salts and soaks, and it's actually not too hard. Obviously I'm not always free to craft my own, but when I do, here are the recipes I've decided to stick with. They're all natural (obviously) and just as amazing (maybe even better) than store bought ones. Enjoy your me time – you've earned it.  
Note: To get the most out of these DIY bath goodies, I recommend soaking in them (either the bath salts or the bath soak) for at least 20 minutes.  
Romantic Pink Bath Salt  
What's great about bath salts is that they naturally release minerals into your bath. This helps soften the water, and of course, cleanses the skin. This recipe is great to keep all to yourself, or give out as a gift (these make great party favors, too!). Since I have a personal obsession with the color pink (and roses), this is one of my personal favorites. That said, feel free to change it up a little to suit your own needs or wants. Also, just an FYI: These bath salts are best used in a bath before bed, as this blend will relax you. Oh, and this bath is kind of a natural aphrodisiac (if you let it be). It's not called "romantic pink bath salt" for nothing. Just saying...   
Ingredients:  
 2 cups pink salt  
1 cup dried herb mix of rose, lavender, and borage  
½ cup kaolin clay  
25 drops ylang ylang essential oil (can be substituted or mixed with rose essential oil) 
Directions:  
In a large bowl, mix all the ingredients together except for the essential oils. Stir thoroughly. 
Sprinkle the essential oils over the mixture and then stir them in. It should start smelling really great, but feel free to add a few more drops if you'd like (I usually don't have to). 
Now, pour the salt into glass jars and seal. You now have a beautiful, aromatic bath salt blend! To use, just sprinkle as much as you feel is best into your bath. I recommend at least a generous handful. Enjoy, beautiful! 
Pick Me Up Bath Soak  
So, since the last recipe I just gave you was very relaxing, this one is the opposite. While, yes, a bath will always be relaxing, adding this bath soak to it will invigorate you. You'll feel more alert, awake, and conscious. This is a great bath to take when you need a mental or physical boost. I recommend using this bath soak in the morning or afternoon when you have a little extra time. The best part about this recipe? It's ridiculously easy. 
Ingredients: 
1 cup of rosemary, sage, and peppermint 
Directions: 
There are several ways to go about making a bath soak. You can simply add the herbs directly to the water or put them in a muslin drawstring bag and a let it soak like a teabag in the water. Whatever floats your boat! 
There's one other way to make a bath soak using these herbs: You make literal tea with them, then add the tea-water to the tub. To do this, put the cup of herbs (rosemary, sage, and peppermint) into a jar with boiling water and cover it. Let the herbs steep for at least 20 minutes, and then strain them with a strainer or cheesecloth. Pour the resulting tea into your bath and ta-da! You now have a bath soak.  
No matter which method you decide to use, it's guaranteed to be super easy (and rewarding). Happy soaking!