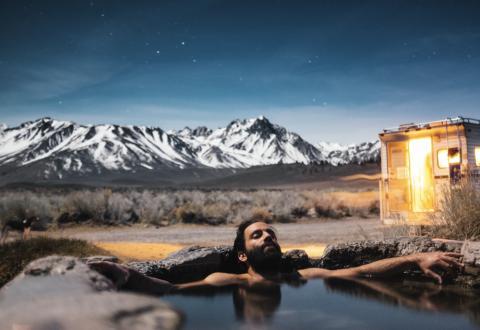 I don't take too many baths, but when I do, it's usually because I'm stressed. Baths have powerful healing properties that enable us to pretty much soak our troubles away. They're great for relaxing muscles, reducing inflammation, and putting us in a sleepy-time mood. That said, simply hopping into a tub filled with hot water won't always do the trick. There are several ways to make bath time extra special, and I advise you try one of them out. While you shouldn't take a bath every day (such a waste of water!), once every few months won't hurt you. And when you do, you'll be prepared thanks to these tips. You can pick and choose which one you want to try, based on what speaks to you. Either way, enjoy your soak! 
Dried lavender flowers, when added to baths, offer a fragrant soak and mild astringent cleansing. Lavender is antibacterial as well. This is a good choice for young children or colicky babies. 
Got frayed nerves, cramps, or insomnia? Add lemony bee balm leaves, fresh or dried, in a cheesecloth bag or tea bag, to your bath. This will help soothe you and even aid sleep. 
Sprigs of rosemary in the bath offer a piney fragrance. You also could add pine needles, reputed to relieve nervous tension, if that's the scent you crave. Rosemary is considered invigorating and also is good for aches and pains and for a tired complexion. Some people consider its fragrance an aphrodisiac. Others find it too strong and get headaches from it (e.g., me). Eucalyptus or bay leaves can be used for the same effect. 
Full baths, footbaths, or compresses using freshly grated ginger root can help break a fever, induce sweating, improve circulation to sore joints, or ease tired feet. For a footbath, sit on a chair over the bath, then wrap a blanket around yourself so that it envelops the steaming bath as well.  
Some Native Americans took sponge baths with decocted verbena leaves to combat nervousness. Give this a try along with verbena tea for added effectiveness. 
Native Americans also took hot sage baths for shaky, cramping, or weakened legs. Or a sage poultice was applied directly to the legs. Add some sage to your bath for a similar effect.
Calendula, comfrey, and chamomile can be used separately or together for an astringent bath that is especially helpful for those with oily or blemished skin. They also can be infused and mixed with a decoction of distilled water and witch hazel bark to make a facial cleanser. Calendula and chamomile are particularly useful for young children and babies. 
For a highly curative chamomile bath, combine one pound chamomile flowers and 20 gallons of hot water. This is good for skin irritations, inflammations such as bedsores, and hemorrhoids. 
Take a cup of chamomile tea, made with two tea bags, into the bath with you. Let the infusion steep briefly, then lift the tea bags out and allow them to cool slightly. Place one over each eyelid to ease puffiness of irritation and aid relaxation. When they cool too much, put them back in the hot tea water, then dip them out again and reapply. 
Elderflowers steeped in hot water make a gently cleansing bath with only a slightly floral cent. They are also considered sleep inducing and relaxing to the nerves.  
For rough skin, take a bath in comfrey, reputed to be rejuvenating to the skin. For chapped hands, use a salve of comfrey or mix an infusion of comfrey with some glycerin or rosewater. 
Add milk, liquid or powdered, to the bath to counteract hard water and smooth the skin. (Cleopatra used camel's milk.) Bath salts, oils, or herbs also can be added. 
DIY Herbal Bath Tea to Calm + Soothe
If all these tips have inspired you to a bath of your own, great! My mission is accomplished. That said, I would like to leave you with a DIY bath tea recipe that you can make from the comfort of your home. This blend in particular is perfect for those suffering from anxiety, depression, insomnia, or anyone who is just downright stressed out. Sadly, it's not vegan, but you can play around with the recipe to make it vegan!  
Ingredients: 
¼ cup dried milk 
¼ cup organic oats 
1/3 cup Epsom salt 
1/3 cup Dead Sea salt 
½ cup dried lavender 
½ cup dried chamomile 
5-10 drops lavender essential oil 
1 tablespoon coconut oil 
Directions: 
Mix the ingredients gently but thoroughly and then scoop them into a mason jar. Label the jar with the ingredients you used, their properties, and the date you made them. This bath tea can last for up to six months.  
You can purchase muslin bags to use as your "tea bags", but you can also cut muslin fabric into squares and tie them closed with twine. When you are ready to test them out, place the tea bag into your bath and leave it until you are ready to get out. Dump your herbs in the trash or compost, and reuse your muslin bag.