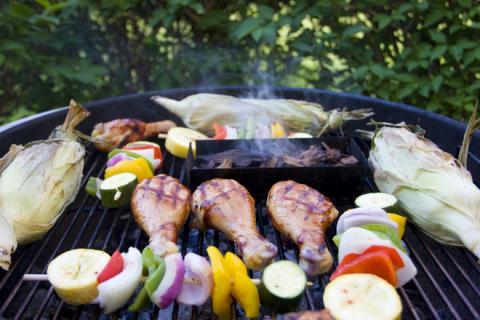 Summertime is here! This means backyard parties with barbecues.  One of the fun things about cooking on a barbecue is the versatility of it. No matter what your dietary preferences are, everyone can enjoy a BBQ. 
I personally love barbecued vegetables, with lots of smoky BBQ sauce smothered on them. Summer squash, sweet peppers, onions, eggplant, tomato, corn, and mushrooms can make a fantastic summer backyard BBQ meal. But what really makes this meal special: a good homemade BBQ sauce that has no preservatives or added sugar. 
It can be easy to run to the store and purchase a bottle of BBQ sauce, but even the ones with no added sugar can be pricey. Why not make your own and impress your friends at your next backyard BBQ?
Here is a fun and simple BBQ sauce recipe you can make again and again throughout the summer as you fire up the grill and enjoy barbecued vegetables, tofu, or grass-fed beef kabobs. The flavors are spicy, sweet, bold and smoky and are best served with a cool coleslaw salad or homemade potato salad. 
Wonderful Summer BBQ Sauce
1 teaspoon olive oil
1 teaspoon coconut oil
1/4 cup diced sweet Maui or Walla Walla onion
2 cloves garlic, minced
1 teaspoon wheat free Tamari
1 can tomato paste (6 oz)
1 cup vegetable broth
1 Tablespoon molasses
1 Tablespoon maple syrup
1 teaspoon apple cider vinegar
1 teaspoon dry mustard powder
1 Tablespoon chili powder
1/2 teaspoon paprika
Salt & pepper to taste
Optional - 1/2 teaspoon liquid smoke 
In skillet, heat oils and sauté onion until caramelized (take your time and wait about 10 minutes to sweeten the onion).  Add garlic and sauté until fragrant. Add broth, tomato paste, and all seasonings and simmer at least 20 minutes until super fragrant and thick enough to spread on vegetables and your favorite protein. Set aside and let cool. Store in the fridge for up to 7 days. 
And get out the grill and enjoy the summer barbecues!