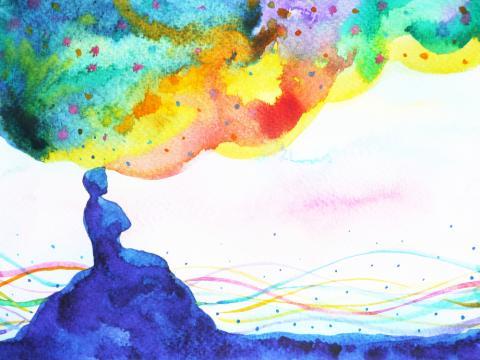 I have a complicated relationship with my Amazon Echo and Dot, the hands-free, voice-controlled devices Amazon developed as a user-interface for Alexa, their answer to Siri and other intelligent personal assistants.  The Echo and Dot devices can be used as Bluetooth speakers, but their most well-known function is to allow users to interact with Alexa – you can search the web, buy stuff directly from Amazon (because, of course!), listen to music, get news briefings, and more – all by simply talking to the device.
Of course, the trade-off is that there's an always listening, wifi-connected microphone sitting in your house, potentially recording every word.
In the interest of full disclosure, I won my Amazon Echo and received it for free -- and some days it's my best friend, while other days I'm convinced it's all that's wrong with society (did you hear that it's making kids less polite?).  This feeling isn't unique to this product; I frequently waver between wannabe Luddite and tech junkie.
To me, the deciding factor on whether I continue to use these devices is how much easier they make it to live the life I want to live.  In pursuit of that answer, I've made a list of the most useful Alexa skills (third-party apps) and features (built into Alexa itself) to help you live a happier, healthier version of your life.  That is, if you do decide to let Alexa into your home…
(By the way, you no longer have to purchase an Echo or Dot to use Alexa – Amazon is rolling out the feature to phones, too.)
Meditation & Mindfulness
Without a doubt, there are two regular activities I use Alexa for the most: meditating and cooking.   You might be surprised at the ways Alexa can assist with meditation, especially if you think of it as a silent, solitary thing.  Let's look at my favorite ways to use Alexa to help with my meditation practice.
1. Set a timer.
If you want to keep it super simple, just use Alexa's native timer feature to help you track how long you meditate for.  It's so easy – just say "Alexa, set a timer for 15 minutes," and she'll keep silent track of the seconds ticking away while you focus on inner peace.  Since you're not using your phone to keep track of the time, you won't be tempted to check it to see how much time you have left, which allows you to sink a little deeper into your mindfulness.
2. Set a timer with background sounds. (Meditation Timer, 1-Minute Mindfulness)
I tend to like silence when I meditate, but if I happen to be attempting while, say, the garbage trucks are making their rounds, I might need a little help to tune out the distraction.  That's when I use this Meditation Timer – not only will it set a timer, but it will start and end the session with a soothing gong and play soundscapes during the meditation period – sounds like forest, rain, and surf.  Just say, "Alexa, open Meditation Timer for one hour," and you're off!  Don't like the chosen soundscape?  Tell Alexa to "play next."
1-Minute Mindfulness works similarly – and the name is misleading, as they've since expanded to allow you to choose any length of meditation.  You can choose different sounds, too – waves, nature, forest, or river, for example.  (I prefer the Meditation Timer over this one, simply because I like the symbolism of starting and ending my meditation with a gong!)
3. Use a guided meditation. (Stop, Breathe, & Think)
If you're really struggling to clear your mind during your meditation, or if you just prefer more guidance/visualization, give Stop, Breathe, & Think a try.  Each day, the app features a new guided meditation with a theme (like "Healing Sadness" or "Gratitude") that walks you through focusing on your breathing, relaxing your muscles, and being in the present moment, as well as asking you some probing questions that get you thinking.  It also gives you advice for dealing with the emotions and thoughts you encounter during your meditation.  This skill is a great place for those new to meditation to start (especially those intimidated by 10 minutes of "silence").  Each meditation is between 3 and 10 minutes long, and if you don't like the current one, you can ask Alexa to "play next." (Psst! You can also check out Basmati's guided meditation series, or our meditations that focus on specific chakras!)
4. Relax with some ambient sounds. (Ambient Noise)
Want to recreate a spa day at home?  Light a candle, put on a face mask, slather yourself in a scrub or lotion, and tell Alexa to "play ocean sounds" while you zone out for a bit.  It also makes good background noise for meditating, studying, reading, and falling asleep.  And there's so much more than ocean sounds – try thunderstorm, fireplace, airplane, fan, or rainforest sounds.  And if you're a city kid at heart, you can even set it to city sounds or train sounds (not my idea of peaceful, but to each his/her own…).
Healthy Eating & Cooking
Part of healthy living is healthy eating, and these days, that often means cooking!  If you go all-in on the smart home route, you can connect your refrigerator, oven, coffee maker, toaster, and more to your Alexa system, controlling them all via voice.  That's a little too Jetsons-esque for me (not to mention $$$!), so in the meantime, I'll make the most of Alexa's ability to help me eat healthy with these skills and features.
1. Set a timer.
Yeah – I definitely use Alexa's timer feature more than anything else.  It's just so dang easy to yell out "Alexa, set a bread timer for 10 minutes," from across the room while I'm elbow-deep in dough.  The recently rolled-out ability to name each timer so you can keep them straight just makes this skill even more useful.
2. Keep a shopping list.
Alexa has a built-in Shopping List (and a To-Do List) you can use to verbally add stuff to your list as soon as you notice you're out – even if you're in the middle of food prep.  With the Alexa app installed on your phone, you can access the list when you're at the store, and if other members of your household have the Alexa app installed and linked to the same account they can access it, too! This is a lifesaver for me, because I always notice I'm out of something when I'm in the middle of cooking, and if I don't stop what I'm doing and add it to the list right that second, I'll forget – now, I don't have to stop what I'm doing to add it to my list! (If you already use Anydo or Todoist, you can link your account.)
3. Inventory your pantry and fridge. (My Chef by Chefling)
This recommendation comes with a caveat: I've encountered more than a few problems with the skill and accompanying app.  Despite the glitches, the developer is responsive and constantly updating the app and its features, so I periodically check in on the app even if I don't use it daily.  I have high hopes for it, because when it reliably and successfully does what it's supposed to, it rocks!  You can use the app (and its Alexa integration) to list everything in your pantry and fridge, including information like expiration dates.  This way, you can literally pull up your entire pantry/fridge when you're at the store! You'll instantly know if the milk in the fridge at home is good or not.  When at home, you can ask Alexa questions like "What fruit do I have?" or "What's expiring?"  You can tell Alexa to "Add all the expired items to shopping list."  (There's a recipe integration too, but I haven't used that much.)
Exercise & Fitness
OK, even though I definitely use the built-in timer when doing plank pose, I'll leave it off this list since I've already mentioned it twice.  Don't worry – there are plenty other skills that you can use to keep yourself moving.
1. Do micro-exercises. (Fitness Exercises)
Think of this like a tech version of rolling a dice that has a different P.E. class style exercise on each side.  Say, "Alexa, launch fitness exercises," and she'll rattle off a random fitness goal that you can achieve before the commercial break is over – think "Do 20 squats" or "Do 15 sit-ups" or "Do a 60 seconds plank."  You can use this all the time!  Watching TV?  Every commercial break, do one.  Reading a book?  Every time you get up to make tea, use the restroom, answer the phone -- do one before sitting back down.  Work from home?  Set an alarm (use Alexa, your phone, or your computer), and do one every hour to make sure you're not sitting for too long.  The suggested moves aren't groundbreaking, but the fun of the randomness makes it unique.
2. Get in a quick workout. (7-Minute Workout)
Have a little more time? Try the 7-Minute Workout skill.  Alexa will walk you through various exercises (wall sits, push-ups, crunches, jumping jacks, etc.).  You do each for a set amount of time, and get rewarded for your efforts with corny Alexa jokes.  If you open the Alexa companion app on your phone, you'll see images and informational cards demonstrating each move.  You can pause your workout if you need to catch your breath, and you can track the number of workouts you've completed over time, too.  You might not get ripped, but it can at least get you off the couch.  (Actually, some research suggests that short, high-intensity bouts are just as effective as long sessions!)  And hey – do four of these throughout the day, and you sneak in a 30-minute workout!
3. Plan your outdoor run/walk/workout.
If you spend a lot of time running outdoors (or if your most common form of exercise is walking the dog), ask Alexa about the weather, and she'll tell you what you want to know.  (I use this feature so often that when I say "Alexa, what's the temperature?" my dog starts downward dog stretching and getting ready for a walk.)
4. Connect to your fitness tracker. (FitBit, etc.)
Alright, I don't actually have one of these.  But if I did, I would totally connect it to Alexa to get quick, hands-free updates on my fitness stats.
Do you have a favorite Alexa skill or feature that helps you live a healthy life?