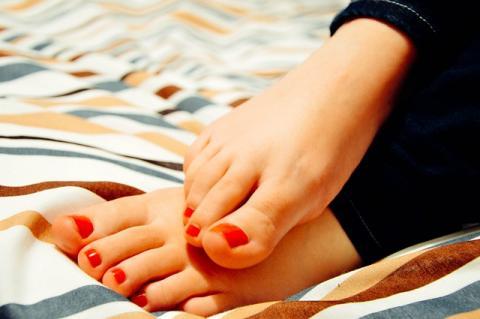 Athlete's Foot can be very uncomfortable, embarrassing, and sometimes painful. Today's walk through Mother Earth's Medicine Cabinet will lead you down a section of all-natural antifungal and antibacterial healers.
Athlete's Foot (Tinea Pedis)
Athlete's foot is a fungal infection located on the skin and underneath the toenails of the feet. In some rare cases, athlete's foot (so-called due to its prevalence in athletes) can actually spread to the hands. Tinea pedis is fairly contagious and spreads easily to the next victim.
The tinea fungus is the cause of the infection. Just like many fungi, this one thrives in moist, warm environments. Even if you are not prone to dealing with athlete's foot it can still be passed to you by walking barefoot in places like public showers, pools, locker rooms, around swimming pools, and many other places where people walk barefoot. If you frequent these places you may want to invest in water shoes or flip-flops to avoid catching the itch.
Signs & Symptoms
Itching, stinging and burning between your toes or on the soles of your feet.

Cracked, peeling skin.

Itchy blisters (in particularly bad cases).

Raw, red-colored skin.

Discolored toenails that become weak and crack.
What Does Mother Earth's Medicine Cabinet Hold For Healing?
Athlete's foot can be a nuisance but it doesn't have to be. There are plenty of natural remedies and treatments out there that are available -- some of them might even be right outside of your back door. Antifungal pastes, creams, and powders can become pretty expensive and some of the over-the-counter medicine contains many unnecessary chemicals and fillers. Why not reach for something natural that you can pronounce? As always, I hope this walk through the medicine cabinet finds you well and in a good way. Happy Healing!