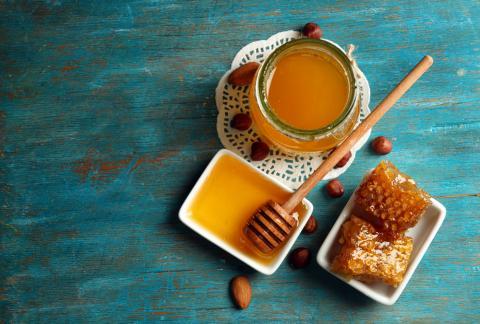 I cannot stress the importance of cleansers enough. Why? Because, after a long day, it's so important to take your makeup off before bed. If you don't, you'll only clog your pores and encourage the creation of zits. It's also important to wash your face first thing in the morning too. That said, did you know you could craft your own, all-natural facial cleanser? While this one does contain honey (which certainly isn't vegan), it is full of ingredients that are great at not only removing makeup but reducing pimples. Honey and tea tree essential oil are great for helping reduce redness and minimizing/preventing acne. Honey also is great for any skin type and helps soften the skin. So even if you don't have acne, this is a great cleanser to make. Ready to give it a try? 
Acne-Fighting Honey Facial Cleanser 
Ingredients: 
1/3 cup honey  
1/3 cup castile soap (any scent you prefer is fine) 
3 tablespoons distilled (or boiled) water  
2 tablespoons almond oil (can be substituted with avocado, jojoba, or olive oil) 
5 - 10 drops of tea tree essential oil  
Directions: 
So, first things first: Gather your ingredients. Next, add the water to the soap dispenser you'll keep the cleanser in (preferably one made of glass with a stainless steel pump).  You can use a funnel for this to make sure you don't make a mess.  
Next, add the liquid castile soap, oil, honey and essential oil to the jar. Once they're all added, shake it up until each ingredient is dissolved. Now it's ready to use! Just make sure to shake it before each use. To apply, add a bit of it to your hands, rub them together, and massage into your face. Then, simply wash it off! 
Note: Since this DIY calls for water without a preservative, it's best to use it quickly. That's because water-based products (without preservatives) run the risk of growing bacteria. So get cleansing!