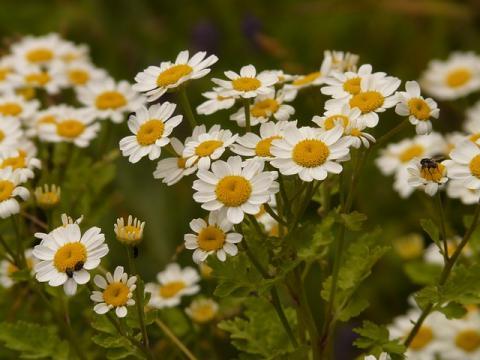 The tiny little daisy-like flowers resemble chamomile flowers, but the bees know the difference. They will happily fly to a chamomile plant, but the feverfew has a bitter aroma that will make them hold their little bee noses. It's not the plant to add to your insect garden, but definitely a hit on the medicinal list.
Native to Europe, perennial feverfew (from the daisy family Asteraceae) blooms in late summer with yellowish-green fuzzy leaves and flat-topped blossoms (the flat tops are one way you can distinguish between feverfew and chamomile – chamomile has a rounded bloom). The flowers, stems and leaves are useful.
The name feverfew, from the Latin febri fugia, meaning "driver of fevers," gives away one of its benefits.  But it also has many other commonly known names like featherfew, nosebleed, flirtwort, devil daisy, and wild chamomile.
Feverfew has been used for centuries to treat fevers, as well as arthritis, menstrual cramps, and inflammation. But its ability to relieve migraines has grabbed the attention of researchers. Studies have shown that patients who take feverfew daily suffer fewer migraines. Other research points to the biochemical parthenolides, found in feverfew, that reduces the widening of blood vessels during migraines. Chewing a fresh leaf or two at the first indication of a migraine is supposed to ease them or even prevent them. But beware – the bees avoid this flower because of its horrible smell and flavor!
If you are harvesting feverfew, pick flowers in full bloom around mid-summer, and don't take more than a third of a particular plant's flowers (this ensures adequate seeding and keeps the plant healthy). Cut the stems no closer than 5 inches from the base, so the plant will grow and bloom again.
You can use fresh-picked feverfew, but if you want to store some for later, lay the flowers, leaves, and stems out in a dehydrator or open flat screen to dry. You can also bundle and hang in a dark closet. If you aren't able to collect them yourself, you can find feverfew capsules or extract in many health food stores. Consult an herbalist for dosages and
precautions.