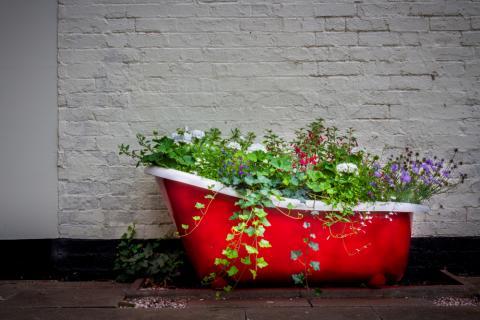 Ever wonder what you can do with some of those old items you no longer use? Use them as new homes for your plants! Plant containers can be made from all sorts of things, so there's really no need to spend your hard-earned money on boring, conventional planters. To give you a little inspiration, here are 13 reusable items that make unique plant containers.
1. Tea Cups & Pots
Why not add a little tea party charm to your garden? Reuse old tea cups or tea pots for your plants! Drill small holes into the bottom of them for water drainage and aeration.
2. Old Tires
Have some old tires you can't use anymore? Turning them into planters is simple. Just place healthy potting soil or dirt from your garden into the center of the tires. You can even stack and paint them beautiful colors to match your home.
3. Drawers
Drawers are another item that can be stacked and painted to make unique plant containers. Don't forget to drill holes in the bottom, unless you use a bottomless drawer.
4. Crates
Wooden or plastic crates are great for adding a rustic look. Keep them the same, or paint them your color of choice. Most crates already have holes at the bottom, so there may be no need for drilling any.
5. Boots & Shoes
No more throwing away your favorite old pair of shoes or boots. You can recycle them by turning them into planters. If you want to get cute, you can save and use baby shoes. Pretty precious, if you ask me.
6. Cans
Cans of all sorts can be used to make eye-catching planters, and they are super easy to obtain. There are so many ways to decorate and turn pop cans, coffee cans, or food cans into dazzling homes for your plants.
7. Old Wine Barrels
Wine barrels are way cooler than your ordinary plant containers, and they add an old-fashioned style that I love. Alright, so I know that most of us don't have old wine barrels just lying around. But if you do, you should totally make them into planters.
8. Glass Containers
Glass bottles, jugs, or mason jars make for some pretty, classy-looking plant holders. You can place activated charcoal or rocks at the bottom of the containers to aerate the plants.
​9. Old Pots & Pans
If you have old pots and pans that you can't cook with anymore, you can use them to make a great home for your succulents. I hope to try this with an iron skillet or one of those blue-speckled camping pots.
10. Old Sink
For those of you who are in the middle of remodeling your house or if you know someone who is, you should try recycling a kitchen or bathroom sink by making it into a plant container.
11. Old Bathtub
Another item while remodeling that you could recycle for the use of a planter is an old bathtub. One of my family members uses an old bathtub for her flowers, and I find it darling.
12. Handbags & Purses
Beloved handbags and purses are hard to get rid of sometimes, but you don't have to if you use them as plant containers. Easily add a little fun and fashion to your home garden with this idea.
13. Baskets
One of my favorite reused-items being used as planters are baskets. Almost any plant you place in a basket will look lovely, and most baskets already have woven spaces for aeration.
Reusing items is one of the best ways to save money as well as the Earth's resources. Did this article open a door to some new ideas for making your own used things into planters? Feel free to share any ideas on what you think could be reused to make unique plant containers. Click here to find tips for better container gardening.