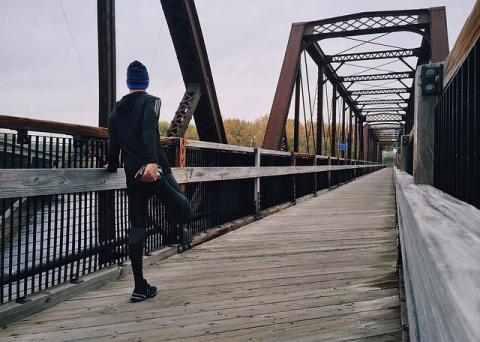 With a farewell to all that is 2016, it's time to give a warm welcome to 2017. What better way to embrace the New Year than with a New Year's resolution? Whether you're looking to shed those extra pounds you've been carrying around, or kick that nicotine addiction, now is the time to do it. Truthfully, I haven't even bothered with New Year's resolutions, or Lent (oops), lately, but that's about to change.
Like nearly every other person on the planet, I'm sure you've set an unsuccessful resolution or two. If your presumed inability to stick to those "new year, new me" resolutions has swayed you to simply give up on making those positive lifestyle changes, you need a fresh perspective! A few helpful tips and tricks may be all you need to develop the can do attitude that will make 2017 your best year to date!
Narrow It Down: When you're ready to become a better version of yourself, it's easy to get carried away. However, I'd advise you to set only one goal, if you plan on adhering to it through December 31, 2017. By focusing on one thing, you'll be much more likely to actually see it through.
Be Realistic and Specific: Okay, let's say you want to lose weight. Claiming that you'll go to the gym seven days a week is unrealistic, if you've never even had a gym membership. Instead, start out slow. Aim to gym it up three days each week. Also, avoid setting vague goals. Rather than stating you'll just lose weight, apply a specific number to that goal, because it'll be something to reach for. For example, losing 10 pounds is both realistic and specific!
Publicize: Let your resolution be known throughout all the lands! Okay, maybe not, but you get the idea. If you want to eliminate fried foods from your diet, it's a good idea to let family and friends know. Then, they can support you, and try not to tease you by eating delicious doughnuts and freshly fried potatoes in your presence.
Motivational Mementos: Document your resolution, and turn it into a dazzling decoration. Put a nice, big visible reminder of what you're trying to achieve somewhere that you'll see it each and every day. Inspiration and success go hand in hand.
Track Progress: Make sure that you're able to measure your progress in some way. If you aren't aware of what you've accomplished, goals can become disenchanting due to being seemingly far away, and out of reach. Plus, if you're not where you want to be, a known lack of progress will allow you to reevaluate your plan of action, adjust, and get back on the right track. There's nothing more motivational than notable progress!