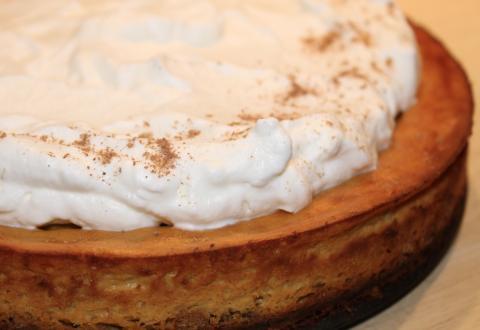 From pumpkin lattes to the traditional pie, this season's harvest has no match. Pumpkins and gourds stock the market shelves, foods that fill not only the belly, but the soul. Living in Barcelona, I wasn't able to travel home to the United States for Thanksgiving, but there are little reminders of home I can whip up in my adopted country that ring in the season.
Rather than using the canned variety of pumpkin puree, seek out the whole pumpkin, roast it, and have not only puree for cheesecake, but a delectable side dish or makings for soup any night of the week. There are different roasting techniques; pick the one you prefer. I tend to roast my pumpkin or squash whole, cutting it and scooping out the seeds when it becomes soft. The flesh is sweet and jam-packed full of nutrients.
This variation on pumpkin cheesecake eliminates artificial sugars and incorporates natural sweeteners that are also reminiscent of the autumn season. From maple syrup to a robust heather honey, choose good quality ingredients, and this dessert will be the star of the show.
Pumpkin Cheesecake Recipe:
Yield: two 8-inch cheesecakes
Crust
2 cups Whole Wheat Digestive Cookies "Biscuits" or Graham Crackers, crushed
½ cup Butter, melted
1 tsp Ground Cinnamon
½ tsp Ground Cardamom
½ tsp Ground Nutmeg
¼ tsp White Pepper
Filling
3 cups Cream Cheese
2 cups Roasted Pumpkin, mashed
4 Whole Eggs
½ cup Honey
¼ cup Maple Syrup
3 Tbsp All-Purpose Flour
½ tsp Vanilla Extract
1 tsp Cinnamon
½ tsp Ground Ginger
½ tsp Ground Nutmeg
¼ tsp Ground Clove
Pinch Sea Salt
DIRECTIONS
Preheat oven to 325⁰F. Using a food processor or a rolling pin, crush the whole wheat digestive (or graham cracker) cookies. Stir in butter, cinnamon, cardamom, nutmeg and white pepper. Press into two 8-inch spring form pans that have been lined with parchment paper.
For the filling, use the whip attachment on your blender or a food processor. Combine all the ingredients, whip or process until smooth and velvety. Pour filling over the two crusts, making sure even distribution.
Place in the oven. Bake for 45-50 minutes until the center is set. Remove and allow to cool. Run a paring knife around the edge of the spring form pan before removing for service.
Optional:
Whipped Topping
1 cup Heavy Cream
2 Tbsp Confectioner's Sugar
1/8 tsp Ground Cardamom
Zest from ½ Orange
In a cold metal bowl, whip heavy cream until stiff. You can tell it is firm when you pull the whisk from the cream and small peaks form. Fold in confectioner's sugar, cardamom and orange zest.  Spoon over cheesecake to serve.