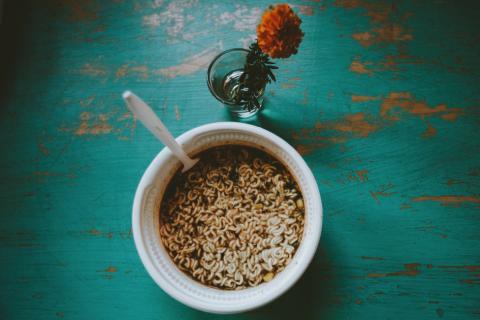 I am a self-proclaimed healthy eater, but I would be completely lying if I said that I never eat packaged convenience food. The easy and quick nature of something nearly ready-prepared is hard to beat, but the nutrition is often lacking. On nights when we can't seem to possibly get everything done, I reach for an old standby: packaged ramen. Now I know what you're thinking, "You can't be serious! Ramen? Those heavily processed bricks of noodles?" Yes, I mean that ramen!
For starters, not all packaged ramen is created equal. Sure, you can grab the classic ramen packages and recreate the following recipe without issue, but these days there are more natural brands available. Lotus Foods and Koyo Natural foods both create stellar packaged ramens from heirloom rice varieties that are free from additives and fillers. Some varieties are even organic. I particularly love the Lotus Foods Jade Pearl ramen for its hearty texture, delicious miso soup mix, and wholesome ingredients. While packaged ramen is still packaged ramen, the natural versions of these products free my conscious a bit.
Next, I add loads of fresh, organic ingredients, typically whatever is on hand or leftover in the fridge. Some good additions are leafy greens, proteins, and other fresh vegetables such as mushrooms or carrots – though again, nearly anything in your fridge will do! The result is a simple, quick, and nourishing ramen that can be whipped up in as little as 20 minutes. This weeknight ramen has saved me on many late nights, and for packaged convenience food, it's actually not so unhealthy after all. Happy eating!
Healthy Ramen
(serves 2)
Ingredients:
16 oz extra firm tofu, cubed
1 tbsp sesame oil or vegetable oil
1 clove garlic, crushed
1 bunch kale, ribs removed and chopped
¼ lb crimini mushrooms, stems removed, sliced
2 large carrots, thinly shaved or sliced
2 packages instant ramen (I love the Lotus Foods or Koyo varieties)
4 cups water
Sriracha (optional)
Method:
In a large pan, heat oil and garlic over medium heat. Add tofu and cook 5-10 minutes. Add kale, mushrooms, and carrots and cook about 8 minutes, stirring frequently.
Meanwhile, boil water and cook ramen according to package directions (about 4 minutes), adding spice packet once noodles are fully cooked. Add tofu, kale, mushrooms, and carrots to ramen pot and stir to combine. Add optional Sriracha to taste. Divide into two large soup bowls and serve.
There is no financial affiliation between Basmati.com, the author, or the brands and products listed above.