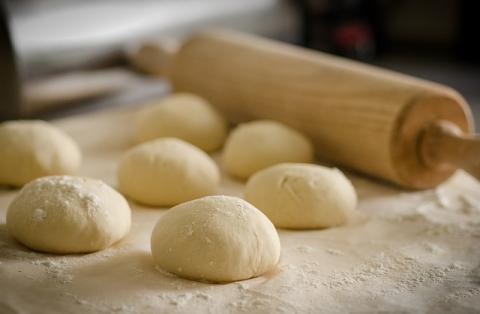 Want homemade pizza without the hassle? Try my vegan quick dough recipe! With no overnight waiting times, you can be sitting down to eat within the hour. Get as creative as you like with the toppings – your options are endless! Some of my favorites are the classic marinara and (non-dairy) cheese, roasted vegetables with garlic, or pineapple with spicy tofu and mushrooms. Whatever toppings you choose, you are sure to impress with this quick and easy pizza dough!
Special Supplies
Rolling pin
Pizza pan (or cookie sheet)
Ingredients
1 (1/4 ounce) package of active dry yeast (about 1 tablespoon)                           
1 teaspoon sugar                                                                                                   
1 cup warm water
2 ½ cups flour (whole grain or bread flour)
2 teaspoons olive oil
1 teaspoon salt
Your choice of sauces & toppings!
Directions
-Preheat oven to 450 degrees Fahrenheit.
-In a medium bowl, dissolve yeast and sugar in warm water. Let stand until creamy, about 10 minutes.
-While the yeast and sugar dissolve, prepare your toppings.
-Now stir in the flour, salt and oil. Mix until smooth and then let the dough rest for five minutes.
-Place the dough on a floured surface and roll out as thin as possible.
-Lightly grease your pizza pan (or cookie sheet) before placing the dough on it.
-Spread sauce and toppings before placing the pizza in the oven. Bake for 20-30 minutes, or until golden brown.
-Allow the pizza to cool completely before cutting into slices.