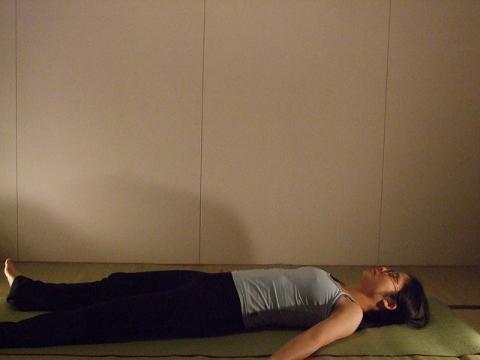 There are no real rules when it comes to savasana. Corpse pose is an homage to the meditative state the original practitioners of yoga committed to for hours after asanas. The purpose is self-reflection and meditation—but that doesn't always look the same way. Some yogis find today's most common pose aspect (laying down with legs and arms slightly spread) uncomfortable for their lower back, so they choose to bend their knees. Some prefer to sit in a seated position. As far as the physical pose is concerned, any position that makes you as comfortable as possible for turning inwards is your savasana.
However, that's just the biggest aspect of the physical part of final resting pose. What you actually do during savasana is another story. Some yoga teachers prefer to let their students self-guide during these few minutes. Others go student to student, helping them stretch out their limbs or rubbing their foreheads. Some teachers provide aromatherapy, others a guided meditation.
Whether you're looking for a unique savasana option for yourself or your students, check out these ideas:
Reading poetry. Choose an appropriate poem that encourages you to continue to grow and thrive, based on the asanas practice. Get creative. Enjoying poetry is a luxury that few of us take advantage of, and it only takes a few minutes. You might open the doors to loving poetry or introduce yourself or your students to a brand new poet.
Candlelight meditation. Although savasana is usually practiced with eyes closed, that's not required. A truly successful meditation lasts only a few seconds a handful of times in your life—if you're lucky. Achieving that state of mental clarity is exceptionally difficult, and there are zero guarantees that you need closed eyes to do so. A dim room with a single flame and soft eyes can help some people reflect inwardly quicker and easier.
Practice smiling. Savasana is usually guided to include a relaxed face. However, if you go back and forth between a relaxed face and a genuine smile, you can actually imbue true happiness. Numerous studies have shown that smiling, even if it's not genuine (at first), can actually produce happiness. However, a lot of people feel silly forcing themselves to smile at random throughout the day! A safe space in a dark room with eyes closed gives everyone permission to practice smiling.
Reflecting on happiness. When you think of guided meditation, you likely think of a teacher helping you to imagine a pristine beach or mountain scene, and that works great for some yogis! However, carefully recalling the nuances of a loved one (or loved pet) is even more powerful than practicing smiling. You can choose a current relationship or one that's passed—of course, which one you choose can strongly influence the emotions you'll evoke.
When planning for savasana, there's no need to simply mimic what you've experienced before. You've spent the last 60-90 minutes preparing for these brief, precious moments. Maximize them. Make the most of them. Design a savasana that helps you grow.
Photo Credit: "Savasana" by misha jade kiyomura is licensed under CC BY 2.0