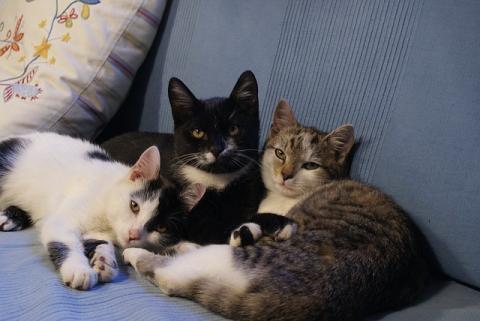 "...in a friendship you get to know the spirit of another person; and your values coincide. Friends may disagree, but not about serious matters. A friend will stand for you when you are no longer able. A woman can say to herself, If I die, I know that my friend, my sister friend will be here to hold up the banner. Now that's very profound."
                                                                                                                        Maya Angelou
Sometimes our friends become family. They are there through life's trials, and life's sweetness, to join us on our path to uncovering our true selves. Sometimes, we must choose new families that understand the intimacies of our lives without judgment, who bear witness to our souls, and are excited to see who we'll become – rather than who they wish us to be. These family ties extend beyond blood, and instead become families of the heart. More so, if you find yourself leaving the family nest, far away from your original home, then finding your place among your people is important. In a family, you long to be known, to be seen for who you are. You long for a connection that is the joining of spirit. Most deeply, you long for empathy.
Over the past twenty years, I have had great friends-- particularly sister friends--who have walked with me on my journey. They have sustained and re-imagined my ideas of having a chosen family. These friends have seen me through many changes, partners, jobs, ideologies, moves, and hairstyles. One close friend taught me a lot about myself. She gave my hair a blow out so I could wear a big afro. I never knew how to do this for myself, so learning to style my hair in a way that celebrated its natural beauty was a revelation. The fact that I was someone to be made beautiful and celebrated was also a revelation. I was so used to straightening or finding ways to add length to my hair to fit in. A fro made me stand out, and required me to claim my distinct self, unashamed and unafraid.
I remember a group of my friends, gathering together in a sister circle, discussing what love meant to us as young women weathering what felt at times to be a loveless world.  I remember our long conversation, grappling with how to walk the planet with integrity and care for all living things. The conversation turned to how difficult this business of loving can be while trying to make something of ourselves in an unforgiving world. We also admitted that we were tired of constantly running the wheel of trying to "be more" than our real selves. We let our hearts hang out for everyone to see, our frustrations, our wisdom, and our weaknesses. We also saw that though our paths were different, we were each others' mirrors. We could help parent those parts of ourselves that still required care. Through the pruning and preening life has done in our hearts and minds, we have grown from self-assured girls with all the answers, to young women, aware of our vulnerabilities, wounds, and life's many miracles.
Learning to love beyond judgment and limitation demands our vigilance and willingness to push past our fears. I am grateful for my friends that tell the hard truths I must hear, and love me unconditionally when I need comfort. Most sweetly, together, in the newness of creating bonds based in love, honesty, and resilience, we begin to build that beloved community we have longed for -- engaging in ways that touch our spirits, and build us up to have the characteristics we need to walk in the world with a sense of joy, resolve, and purpose.