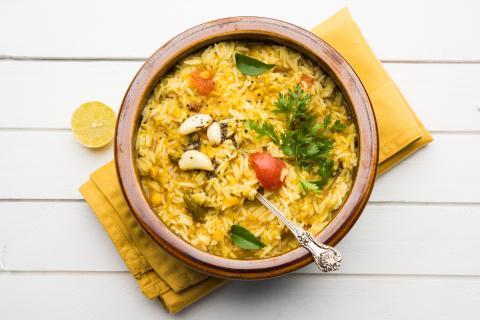 According to Ayurvedic principles, Fall and Spring are considered ideal times to cleanse the body and prepare for the coming season. During these transitions, we're often left feeling heavy or out of balance. If you've felt this way, adding kitchari to your diet, or doing a kitchari cleanse, may be very beneficial. Kitchari is ideal for cleansing and balancing each of the three doshas—Vata, Pitta, and Kapha—which are the three constitutions in Ayurveda that define our behavior, as well as our emotional and physical health. It is believed that when our doshas are in balance we are able to operate at our highest potential.
What is Kitchari?
Kitchari is a stew that is fundamental to Ayurvedic cooking. It is light, easy to digest, high in protein and considered a very sattvic food, which means fresh, juicy, light, nourishing and tasty. Sattvic foods provide necessary energy while also helping the consumer to re-gain balance. Although kitchari is made of a few very basic key ingredients, there is still plenty of flavor from several key spices and seeds that play an important role in detoxing the body. Kitchari is also tri-doshic, meaning it's balancing for all three doshas, however, identifying your constitution before making this dish is important to help tailor the recipe to your dosha.
The Healing Power of Kitchari
Although kitchari is extremely basic in ingredients, it also provides amazing healing benefits, including aiding in digestive stress, balancing metabolism, cleansing the blood and liver, assisting in healthy weight loss and helping the body's tissues to detox what they don't need while absorbing beneficial nutrients. Consuming kitchari while cleansing maximizes the body's ability to eliminate toxins without denying your body the nutrients it needs.
There are many recipe variations out there, from simple (just a few ingredients), to extremely hearty and complex. I'm a big fan of adding extra veggies to make the dish more filling, while also adding a variety of flavors and textures. Some of the seeds were quite difficult to find in a normal grocery store, so you may want to order them online or try a specialty health store or international market.
Makes 4-6 servings.
Ingredients
1/2 cup of dry mung dal (also known as split yellow lentils)
1 cup high quality organic Indian basmati rice or quinoa
2-3 tablespoons ghee (preferable) or coconut oil
1 tablespoon black mustard seeds
1 tablespoon fennel seeds
1 tablespoon mustard seeds
1 tablespoon turmeric (I love turmeric, so I went heavy on this one)
1 tablespoon cumin
1/2 teaspoon ground coriander
1/2 teaspoon fresh cracked pepper
1/2 teaspoon cinnamon
One 2-inch piece of fresh ginger root, minced (cut it up smaller than you think you need to)
4-6 cups water (more water will make it soupier)
6-7 cups assorted vegetables (I used yams, cauliflower and cilantro for garnish)
1 tablespoon Himalayan sea salt
1 tablespoon lime
Instructions
Wash the mung beans and rice thoroughly, and soak the beans overnight to make them easier to digest. Cook rice the day before as well to give it time to set and cool before adding it to the rest of the ingredients.
Add coconut oil or ghee to a large eco-friendly sauté pan and allow it to melt to its liquid form. Add seeds to the oil and sauté until they pop.
Next, add the spices (minus the salt), ginger, rice, and beans to the oil. Coat the rice and beans with the spices and seeds, adding everything relatively quickly to avoid burning the spices or overheating the oil.
Begin to add water or broth slowly to the pot, stirring as you go. Add any extra vegetables that you have prepared, and stir everything together gently.
Allow water to come to a boil and then lower the heat. Cover and cook for another 45 minutes, or until all of your vegetables are soft. At the very end of cooking, add the salt.
Allow the mixture to cool slightly, then add cilantro and more coconut oil or ghee as garnish and serve warm. Enjoy!
Keep in mind that Ayurvedic tradition doesn't promote eating leftovers or re-heating foods, but I broke the rules and ate my kitchari for several days afterwards and it kept well! Avoid heating in the microwave and re-season as needed.  
What's your favorite kitchari recipe? Please share in the comments!