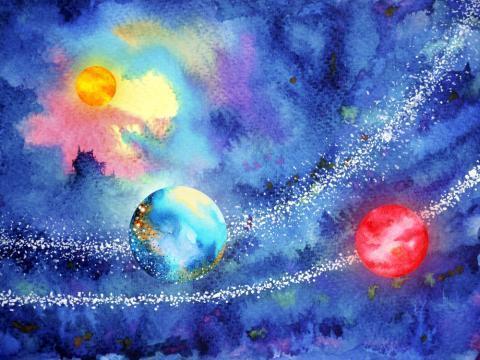 The Karmic Tools Weekly Forecast covers the current planetary transits which affect people in different ways and to various degrees of intensity.  Take notice when it is a Personal planet (Sun / Moon / Mercury / Venus / Mars) interacting with a Social (Jupiter / Saturn) or Collective planet (Uranus / Neptune / Pluto).  And pay extremely close attention when it is a Social planet interacting with a Collective planet because that means something big is brewing that will move large groups of people along their evolutionary paths. Tuning in to the energy and rhythm of the planets can serve as a useful guide as you move along your Individual Path.  It also helps to understand your place within the context of the larger Social & Collective Story. Below, you will find out how these energies tend to manifest, as well as guidance and direction.  NOTE:  There are some days when there are NO CONTACTS (besides the Moon);  there are no missing entries, we just list the actual Activations of each week + the day they happen.
Weekly Forecast:  September 15–21, 2019
9/19 ~ Mars (energy) ~trine~ Pluto (transformation)
This is an active, transformative energy that will help you to change your life in a healthy, positive way. You may have the energy & inclination to make major personal (and permanent) changes to who you are and what you want on a deep Soul level. Because it's a Trine, it promises more ease than is usually associated with Pluto, and in this case, makes transformation smoother. You may be especially focused on what needs to be done or changed in your life at this time. You will want to take action and the Universe supports that decision, as long as it is righteous and not totally self-serving. This is a good time to get moving, take action regarding your long-term goals—and you will be able to create momentum. You may realize some of your recent actions or choices do not necessarily support your deepest drives or desires. As you get in alignment within & without, the results can be miraculous. Be creative ~ be brave!
9/21 ~  Jupiter (Truth/Story) ~square~ Neptune (Vision/Spirituality): 
(3 of 3:  1/13 ~ 6/16 ~ 9/21)
These two are somewhat related and seem to create a possibility for "too much of a good thing"—over-idealizing, over-extending—along with faith and charity in the wrong direction.  The *square* is creating the friction that helps you catch "glimpses" of your reality as the illusion "cracks," and hopefully, it will spur you on to manifesting your ideals in practical/3D ways. By recognizing what you no longer believe, a new vision begins to emerge, though it still needs to be cultivated. The *TEST* that squares bring push us to grow and develop in a way that moves things along. When a Social Planet (Jupiter) hits a Collective Planet (Neptune) then large numbers of humans evolve around the same time. Additionally, if you have the Signs activated in your Individual chart, then it becomes "personal" for you. In general, these energies coming together should help you develop a Truth/Belief System of your own, while still creating the *Daily Practice* that will animate and support it going forward. This energy will activate your generosity of spirit, so make sure to give to those worthy of your investment and try not to be foolish, deluded or tricked. Use this combo to expand your consciousness and practice what you preach.
This article originally appeared on Karmic Tools!