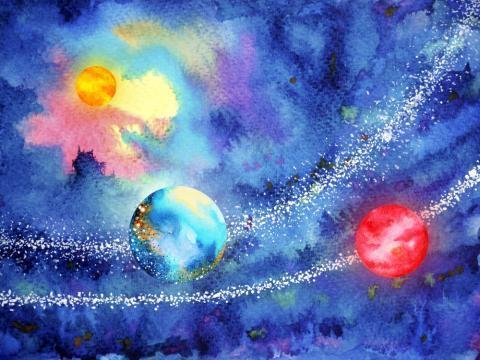 The Karmic Tools Weekly Forecast covers the current planetary transits which affect people in different ways and to various degrees of intensity.  Take notice when it is a Personal planet (Sun / Moon / Mercury / Venus / Mars) interacting with a Social (Jupiter / Saturn) or Collective planet (Uranus / Neptune / Pluto).  And pay extremely close attention when it is a Social planet interacting with a Collective planet because that means something big is brewing that will move large groups of people along their evolutionary paths. Tuning in to the energy and rhythm of the planets can serve as a useful guide as you move along your Individual Path.  It also helps to understand your place within the context of the larger Social & Collective Story. Below, you will find out how these energies tend to manifest, as well as guidance and direction.  NOTE:  There are some days when there are NO CONTACTS (besides the Moon);  there are no missing entries, we just list the actual Activations of each week + the day they happen.
Weekly Forecast:  August 25–31, 2019
8/26 ~ Venus (love, finances & relationships) ~trine~ Uranus (freedom & liberation)
This energy is likely to bring a little excitement into your life, one way or another. It is a good time to do something different, try something new, & consciously put your Self in situations where you have to improvise & think on your feet. We are in times of breaking old patterns and re-setting them in more positive, effective ways. You can still live your true values & priorities, but in new & different ways. This blessing from the Cosmos allows you to align with more personal authenticity, which in turn is infused into all that you love & treasure. Relationships will have an unusual energy to them. An established relationship may sparkle with some extra "spice" or a new relationship begun under this energy may be stimulating & unusual but probably short-lived too. This is not a bad thing! It's actually perfect for experimenting with new ideas & expressions to see what your Heart aligns with and responds to. Use this energy to soak up some good energy & rare wisdom from those who are unique, who do things differently and live on the fringes!
8/28 ~ Mars (courage & passion) ~trine~ Uranus (freedom & individuality)
This is a powerful combo, however, it has to be integrated and consciously expressed to yield the best results, otherwise you may miss an opportunity for a major personal breakthrough. Mars gives you the courage and Uranus awakens new possibilities within. This is an easy alignment of your actions and your individual brilliance. You may even discover some new gift or talent that has been dormant for a while but is now beginning to come to life. This energy pushes you to try something new that liberates you in some way that you may have previously felt daunted by in the past. Because of the easy angle too, this new evolution to the next level should not entail you having to annihilate any other aspect of your life; you will just intuitively know it is time to change. It won't matter what others think or say either, because the prompting for change comes from within so take advantage of this time to experiment. You never know where it will lead.  
8/29 ~ Sun (core identity) ~trine~ Uranus (individuality)
This energy is wonderful for a little self-examination and taking action on your own behalf. Look at your habits, home situation, work, or anything else that is important to you and look at how you've gotten to where you are. What kind of choices led here? This is a good time to look around and see how you can conserve what is useful and release that which is no longer relevant for you going forward. It's also a good energy for organizing & clearing the decks, so to speak, of things that have piled up but still need to be dealt with (or released altogether). You may be feeling very practical, possibly selfish, but it's actually self-preservation.
This article originally appeared on Karmic Tools!