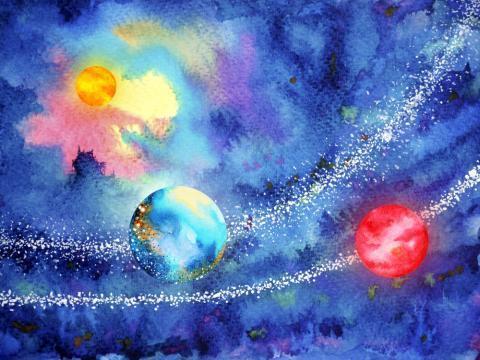 The Karmic Tools Weekly Forecast covers the current planetary transits which affect people in different ways and to various degrees of intensity.  Take notice when it is a Personal planet (Sun / Moon / Mercury / Venus / Mars) interacting with a Social (Jupiter / Saturn) or Collective planet (Uranus / Neptune / Pluto).  And pay extremely close attention when it is a Social planet interacting with a Collective planet because that means something big is brewing that will move large groups of people along their evolutionary paths. Tuning in to the energy and rhythm of the planets can serve as a useful guide as you move along your Individual Path.  It also helps to understand your place within the context of the larger Social & Collective Story. Below, you will find out how these energies tend to manifest, as well as guidance and direction.  NOTE:  There are some days when there are NO CONTACTS (besides the Moon);  there are no missing entries, we just list the actual Activations of each week + the day they happen.
Weekly Forecast:  August 18–24, 2019
8/21 ~ Mercury (learning & mind) ~trine~ Jupiter (education & consciousness)
This energy is great for expanding your mind, learning something new, or taking a class. It's time to plan for the future and start getting organized. However, you may feel less disciplined and more creative, which is fine in the beginning, but eventually focus & discipline will have to be engaged to ground your new ideas, thoughts or concepts. You have to ask your Self, "How bad do you want it?" If you are self-aware, awake & alert, you will be able to see (and seize) the opportunities as they present themselves. It may appear to be luck, but it's really more that you were in alignment with the Cosmos, present & positive, and ultimately, able to trust & follow your instincts. Practice; there is no perfection. Being optimistic & looking for opportunity in every experience will magnetize the positive and naturally repel the negative, leading right where you want to be! Take advantage of this good energy to connect to whatever it is you are trying to create in your life at this time.
8/24 ~ Venus (love & beauty) ~conjunct~ Mars (passion)
This is our primary Sacred Feminine (Venus) and masculine (Mars) energies merging in a potent way, arousing a need to cultivate powerful relationship, whether physical/sexual with one or relating/socializing with many. There is a strong need for approval (on one level) and affection (on another level) from others, in a way that we usually do okay on our own, but with this one, you just crave human contact of some sort. If you are not in relationship-mode or interacting with human beings at this time, this energy can also activate your artistic nature (Venus). This a perfect time to create something (project or relationship) that is seeded by a deep, authentic love.
This article originally appeared on Karmic Tools!