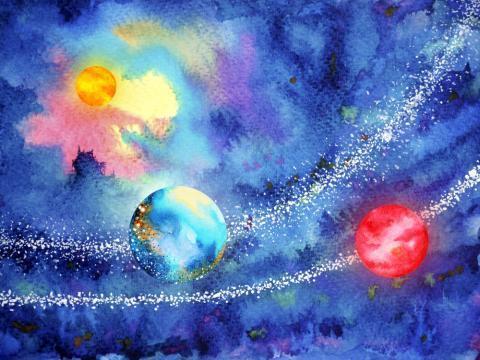 The Karmic Tools Weekly Forecast covers the current planetary transits which affect people in different ways and to various degrees of intensity.  Take notice when it is a Personal planet (Sun / Moon / Mercury / Venus / Mars) interacting with a Social (Jupiter / Saturn) or Collective planet (Uranus / Neptune / Pluto).  And pay extremely close attention when it is a Social planet interacting with a Collective planet because that means something big is brewing that will move large groups of people along their evolutionary paths. Tuning in to the energy and rhythm of the planets can serve as a useful guide as you move along your Individual Path.  It also helps to understand your place within the context of the larger Social & Collective Story. Below, you will find out how these energies tend to manifest, as well as guidance and direction.  NOTE:  There are some days when there are NO CONTACTS (besides the Moon);  there are no missing entries, we just list the actual Activations of each week + the day they happen.
Weekly Forecast:  July 28–August 3, 2019
7/29 ~ Sun (source & essential Self) ~square~ Uranus (awakening & radical shift)
As with any Uranus activation, this one disrupts the normal flow to facilitate a "break to realign" moment. While sometimes disruptive & challenging, the ultimate result is refreshing in some way. Consider the energy that thickens, gathering for a severe thunderstorm, then releasing buckets of rain, for hours…you sleep deeply and awaken to a bright sunny morning with birds chirping unusually loud outside your window. Got the visual? This activation is the necessary challenge that gets your attention that something better is available, if you're willing to improvise and think on your feet. If you've been unusually restricted in some way, you may feel restless. Rather than being reactive to the unexpected shift (within or without), it's best to take a pause for the cause, step back and try to gain some perspective. Remember to be present; too far in the past can be depressing and too far into the future, and you cause your Self unnecessary anxiety. Breathe, be under the sky, invite clarity about the next step and trust your gut. This energy, while sometimes uncomfortable and often sudden, is very necessary to disrupt any illusions/delusions you may be holding on to. It's time to express your Self in new ways.
8/2 ~ Venus (love, finances & relationships) ~square~ Uranus (sudden change)
This is a test to grow that you cannot plan for. Venus rules your values & priorities and an activation with Uranus signifies something sudden and seemingly out-of-the-blue. Of course, this isn't true, but it can feel that way. The truth is, it is time to do something "different" where your love, finances, or relationships are concerned. Making a conscious effort to do things in a completely new way will be rewarded with a lesson & a blessing you would've never considered. Due to new revelations happening within you, the immediate response will come from those closest to you. If you're in relationships (personal or professional) that have reached a point where they have to change or end, this is a good time to try to discuss it openly and with as much detachment & objectivity as possible. This energy can provoke the need for excitement or stimulation in your relationships, giving you the urge to shake things up. Be aware & mindful of others' feelings too because they may not be in the mood for such sudden change. Another expression of this energy is to get things on the table; it's a great time to really discuss things & come to an agreement or compromise. Ultimately, this is a test of your flexibility in relationships. The more inflexible or attached to status quo that you are, the more disruptive this energy can be.
This article originally appeared on Karmic Tools!