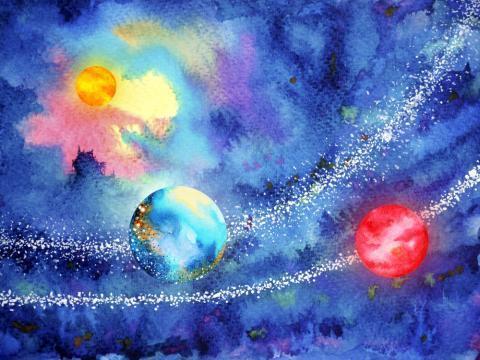 The Karmic Tools Weekly Forecast covers the current planetary transits which affect people in different ways and to various degrees of intensity.  Take notice when it is a Personal planet (Sun / Moon / Mercury / Venus / Mars) interacting with a Social (Jupiter / Saturn) or Collective planet (Uranus / Neptune / Pluto).  And pay extremely close attention when it is a Social planet interacting with a Collective planet because that means something big is brewing that will move large groups of people along their evolutionary paths. Tuning in to the energy and rhythm of the planets can serve as a useful guide as you move along your Individual Path.  It also helps to understand your place within the context of the larger Social & Collective Story. Below, you will find out how these energies tend to manifest, as well as guidance and direction.  NOTE:  There are some days when there are NO CONTACTS (besides the Moon);  there are no missing entries, we just list the actual Activations of each week + the day they happen.
Weekly Forecast:  July 21–27, 2019
7/21 ~ Venus (relationships & resources) ~oppose~ Pluto (purification & transformation)
Classic opposition: anything with Venus is usually softened, while anything with Pluto is always intensified, and the opposition automatically brings up the push-pull between these two. You are encouraged to tune into your own heart and then you can trust what is rising from your own depths. Also, any opposition gives you a look back at your starting point, which can reveal something that you may not be giving your Self credit for. Either way, this energy intensifies experiences where your relationships & resources are concerned. If you have focused on love, to the exclusion of money, then your finances will probably come up at this time for a rebalancing of sorts. If you've been focused on money, to the exclusion of family or supportive relationships, then that may be your focus. The bottom line is your true values are up for a purification of sorts. What/Who is really, truly important to you? How do you spend your resources of time, energy & money? What/Who are your real priorities right now? Often, we operate completely unconsciously (Pluto), being driven by deeper forces than we fully understand. And periodically, we must allow them to come up/out so we can distill or release them so they become compost rather than toxic. Since you may feel "compulsive" in some way, you may as well use that energy to make a deeper commitment to getting to the root or source of any imbalance rather than let it take you away to feed some unidentifiable famine in your life. Often, this activation tends to make you uncontrollably drawn to someone you know is not good for you, which can only result in problems. It often provokes manipulation, jealousy, guilt, and other negative emotions that always come when you are trying to maintain something that wasn't meant to be in the first place. Again, don't try to force YOUR will, it can only lead to a broken heart in the end. If you are already in an intense relationship, beware of subconscious impulses, hidden resentments, unexpressed anger and/or frustration. Expressing it at this time can be helpful if you present your concerns in a constructive way, however, you will have to be personally strong and vigilant in monitoring your own emotions in order to do that. Ultimately, if change needs to happen in your relationship, this will be the catalyst. This energy is only "bad" if you are unwilling to get to the real root or source of the given conflict. Otherwise, it is like a storm that cleanses & clears the air, making everything grow better.
7/21 ~ Mercury (communication & self-expression) ~conjunct~ Sun (core essential Self)
This energy will compel you to express yourself on many levels. Communication will be a focus, just make sure it is reciprocated. You will have access to some powerful energy that can (and probably will) make quite an impression on others (if you need to). This is a good time to travel if possible too. However, if not physically, then mentally and certainly within your own area, you will take in more information per square inch than usual. Pay attention! You may even gain the much-deserved recognition from others that you have worked so hard for.
7/24 ~ Mercury (ideas, thoughts & concepts) ~conjunct~ Venus (values, priorities & resources)
This energy encourages you to see the Divine Order or the unifying theme running through the events of your life: good, bad & indifferent as well as past, present & future. This is an initiation of new values around communication, self-expression, and the value of your ideas. You may finally be able to express ideas that have been percolating in your head; some people say "I love you" at this time, or articulate their feelings in deeper, more expressive ways. It's really *juicy* for your Inner Artist: this is the beginning of expressing your creative ideas in altogether new & different ways than ever before. Allow your Imagination to free-flow. Play with ideas with no attachment to outcome. Take advantage and explore all that this energy stirs within you, but don't give in to over-thinking/processing things. These connections are richer, giving you access to deeper personal growth & development through a new understanding of how all the events of your life work together for good, ultimately. You can see the necessity of certain challenges and clearly see your own personal mastery thus far. Celebrate and choose to create some new thought patterns that integrate and reflect more beauty throughout your life.
7/25 ~ Mars (energy) ~trine~ Jupiter (enthusiasm)
This energy is generally positive as you are combining your energy & desires with an expansion of consciousness. It's especially good for anything physical and bodes well for outcomes to any competition. You will be channeling more energy than usual so be sure to check in with your body and stay grounded. Jupiter often brings blessings that others may perceive as "luck" but it is more of an alignment between inner & outer. Even if things are hazy or crazy, do your best to visualize success and put your Self in the picture. You will have a great overall perspective of the "big picture" and can plan accordingly. The only caveat with this energy is to avoid being OVERLY confident where you feel invincible. Be confident, not cocky. This energy is very good for knowing what you need and being capable of making succinct decisions about the course which will get you there. Calculated risks are the name of the game!
This article originally appeared on Karmic Tools!