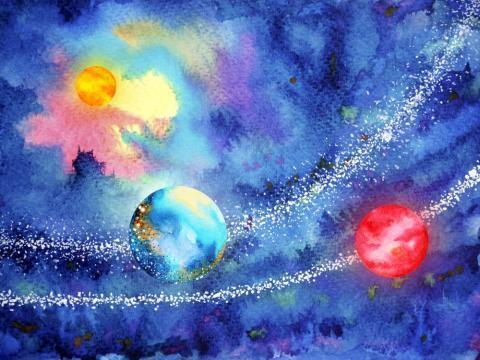 The Karmic Tools Weekly Forecast covers the current planetary transits which affect people in different ways and to various degrees of intensity.  Take notice when it is a Personal planet (Sun / Moon / Mercury / Venus / Mars) interacting with a Social (Jupiter / Saturn) or Collective planet (Uranus / Neptune / Pluto).  And pay extremely close attention when it is a Social planet interacting with a Collective planet because that means something big is brewing that will move large groups of people along their evolutionary paths. Tuning in to the energy and rhythm of the planets can serve as a useful guide as you move along your Individual Path.  It also helps to understand your place within the context of the larger Social & Collective Story. Below, you will find out how these energies tend to manifest, as well as guidance and direction.  NOTE:  There are some days when there are NO CONTACTS (besides the Moon); please note that there are no missing entries, we just list the actual Activations of each week + the day they happen.
Weekly Forecast:  June 23 – 29, 2019
6/23 ~ Venus (love, art & beauty) ~oppose~ Jupiter (expansion)
This is a great energy for enjoying nature, really good food & drink, fun company, and  lots of laughter! It is a celebratory energy, to be enjoyed but not to excess or to the neglect of your health or wellbeing. It's very creative and activates the true Inner Artist within all of us. It's also good to consider that you are at a MidPoint in a relationship or creative project that you started about 6 months ago; is it still viable? Is the story you're telling still true? where's the value? Is it worth it? So whether you are an artist or not, this activation can facilitate an infinitely creative mood and expand your individual work immensely. Activate your imagination, think big, have fun & laugh today, but tomorrow, plan to start moving in a new direction that is more authentic for you personally.
6/24 ~ Venus (love, finances & relationships) ~square~ Neptune (illusions & delusions)
This energy is great for creative flow. If you are artistically inclined in any way, you will have access to an energy that may allow you to create something amazing. Dig deep and allow your Self to free-flow! This energy can also challenge relationships (personal or professional) to "keep it real" in some way and ones which are not on a true, solid foundation are likely to dissolve under this influence. When Neptune is involved, we see life through a completely different kind of lens, often seeing the potential rather than the reality of the situation. Detach & Trust. If your relationship happens to end under this influence, it's not necessarily a bad thing because it suggests that it was never on solid ground to begin with. Be thankful and move on. This activation is just helping you align your true values & priorities with the vision in your mind & heart, but you will have to expand your consciousness in some way, follow your inner compass, and take practical steps going forward.
6/27 ~ Sun (source & essential Self) ~sextile~ Uranus (freedom & individuality)
This activation will help you access a deeper sense of authenticity as everyday routine events may be enlightening this week. Anytime Uranus is involved "ah-ha moments" are available; those sudden inspirations or the surprising clarity that changes everything is bubbling near the surface, you need but invite it in (to your conscious mind to be useful). Eventually, you will have to ground these breakthroughs in some physical form, but this energy supports the exploration of possibilities. Where can you use a dose of freedom & liberation? This energy also promotes "authentic living"—you won't be able to be phony, nor tolerate it in others this week. Just remember that truth sometimes rattles those who would rather "play nice" (keep up appearances/status quo) than face the facts, so watch out for rebelliousness, if not in you then in others. This is not a disruptive energy, except to those who resist change. Don't fight it—embrace it! Change is good: it means you are growing!
This article originally appeared on Karmic Tools!