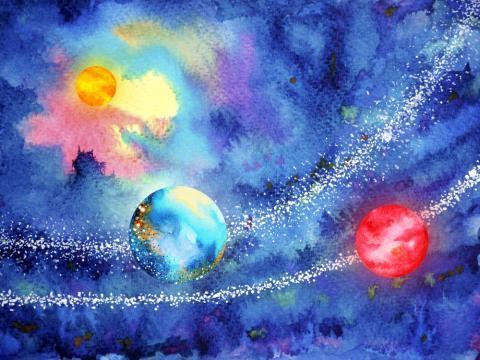 The Karmic Tools Weekly Forecast covers the current planetary transits which affect people in different ways and to various degrees of intensity.  Take notice when it is a Personal planet (Sun / Moon / Mercury / Venus / Mars) interacting with a Social (Jupiter / Saturn) or Collective planet (Uranus / Neptune / Pluto).  And pay extremely close attention when it is a Social planet interacting with a Collective planet because that means something big is brewing that will move large groups of people along their evolutionary paths. Tuning in to the energy and rhythm of the planets can serve as a useful guide as you move along your Individual Path.  It also helps to understand your place within the context of the larger Social & Collective Story. Below, you will find out how these energies tend to manifest, as well as guidance and direction.  NOTE:  There are some days when there are NO CONTACTS (besides the Moon); please note that there are no missing entries, we just list the actual Activations of each week + the day they happen.
Weekly Forecast:  June 2–8, 2019
6/2 ~ Venus (values, relationships & resources) ~trine~ Pluto (purification & transformation)
Anytime Pluto's involved the intensity levels go up and you are able to hear, feel, or sense your SoulSelf more clearly than usual. Venus brings up that which is most important to you personally, your individual values & priorities, where your relationships & resources are concerned. This is an easy angle, making purification & transformation smoother than usual too. So, what are you ready to change? How have your values & priorities changed completely in the last year or so? Use this activation to deepen your connection with those you love most and allow or encourage the relationship to evolve to a totally new level. If you're working on your relationship with money or self-worth specifically, then this activation is a good time for prayer or ritual that supports positive change & your vision for the future. Pour any intense emotions or revelations into art of any medium or do a vision board, but give expression to the depths you recognize as coming to the surface of your conscious awareness. This energy tends to "intensify" relationships and/or emotions. You may feel extremely drawn to someone, emotionally as well as physically. You may feel the intense need to express your love, mentally, emotionally or physically. This energy is great for bringing deeper insights to the surface, which ultimately should strengthen any relationship. A new relationship started under this influence will usually have an intensity about it, as will any form of creative expression, artistic or otherwise.
6/7 ~ Mercury (acumen) ~sextile~ Uranus (the Awakener)
This energy says, it's time to go with the flow—"new and different" being the flow. It wants to shake it up a bit—in a good way. However, if you feel like new and different is more like chaos and disruption, then you need to reflect and see if you aren't being too rigid. Unwillingness to go with the (new) flow will make this energy harder to handle. This is also a good time to try to resolve any old issues or challenges—they are not going away without resolution and conscious release. Perhaps you've been trying the same thing over and over and it's time to try something NEW—now is the time new ideas can/will come to you. Pay attention! Try to be open and receptive to unusual things, events or ideas and allow room for spontaneity. You may think you are doing one thing and look up and being doing something completely different—be open to exploring the new path!
This article originally appeared on Karmic Tools!