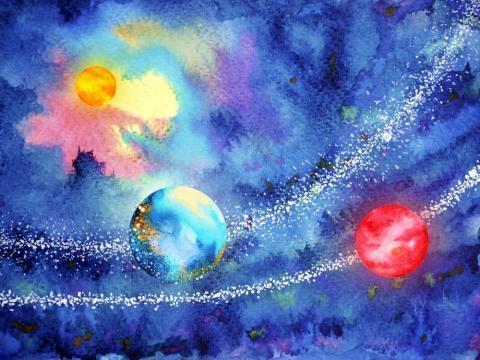 The Karmic Tools Weekly Forecast covers the current planetary transits which affect people in different ways and to various degrees of intensity.  Take notice when it is a Personal planet (Sun / Moon / Mercury / Venus / Mars) interacting with a Social (Jupiter / Saturn) or Collective planet (Uranus / Neptune / Pluto).  And pay extremely close attention when it is a Social planet interacting with a Collective planet because that means something big is brewing that will move large groups of people along their evolutionary paths. Tuning in to the energy and rhythm of the planets can serve as a useful guide as you move along your Individual Path.  It also helps to understand your place within the context of the larger Social & Collective Story. Below, you will find out how these energies tend to manifest, as well as guidance and direction.  NOTE:  There are some days when there are NO CONTACTS (besides the Moon); please note that there are no missing entries, we just list the actual Activations of each week + the day they happen.
Weekly Forecast:  May 26 – June 1, 2019
5/29 ~ Mercury (communication) ~square~ Neptune (dissolution)
This is a mixed blessing energy. On one hand, it's good for spiritual study and giving your dreams a little energy (if your schedule permits). On the other hand, it makes for major miscommunications between people. Try to think before speaking, because if it's possible to misunderstand or not "get it" altogether, it will happen this week. Be careful not to let "longing" for your dreams to come true, distort your judgment, and mislead you into believing the illusion. With this energy, some people will deliberately deceive and others have to be careful not to be misled. Stick to the facts or stay quiet, for now. You may even be inclined to withhold information to avoid a confrontation—don't do it. Communicate with your Self and God today; otherwise plan to be very clear in explaining yourself to others (humans) so there are no misunderstandings.
5/30 ~ Mercury (thinking) ~oppose~ Jupiter (learning)
Any opposition requires us to work with two distinct energies and get them to work together for the good of all involved. It is also a MidPoint which allows you that 180* view from the other side of your starting point (roughly 6-months ago). Mercury & Jupiter are working out the push-pull within you between your Mind & Consciousness, between your Thinking & Beliefs, between your Thoughts & Imagination, between the Tedious Details and the Grand Vision. Because of all this, it would be tremendously beneficial to play amongst a group of like-hearted souls with varying points of view, mavericks who follow their intuition as well as humble healers who also buck status quo by following their intuitive knowing within, something we all have the capacity for. This is great for what I call "Jam Sessions," when my colleagues & I get together to discuss our ideas & insights about our professional goals—something like that is a great use of this energy: plan, strategize, discuss with others, get input and feedback, bounce ideas around, and be open and receptive to others' points of view (they may think of something you didn't). Make sure it is a Circle, where all opinions are valued even if not shared. This is a good one for learning something new and looking at things from another angle, completely.
5/31 ~ Venus (values & priorities) ~trine~ Saturn (stability & endurance)
This is a smooth, easy energy that you can work with consciously and yield incredible, even tangible, results. It's a good time to define your terms where relationships are concerned because you are really clear about your values & priorities, at this time. Based on your past choices & efforts, positive benefits & earned rewards are forthcoming. If you've avoided responsibility in your own relationships (public or private), then this energy can help get you back on track, with less pain & suffering than usual (when Saturn's involved). If you can be practical about your own limits and realistic about what others bring to the table, then this energy also supports discussing forward movement, development or spiraling to a new, higher level in some way, as a team. Strategizing about the future, clarifying the vision of what will support & protect all involved, and honoring the essence of life that runs throughout is deeply supported by these two getting together in an easy angle. Venus is also the energy of love & money, so it's a good time to be objective and somewhat conservative where both your relationships & finances are concerned. With this interaction with Saturn, I would suggest outlining a reasonable relationship or financial goal for the next 3-6-9-12 months.
This article originally appeared on Karmic Tools!