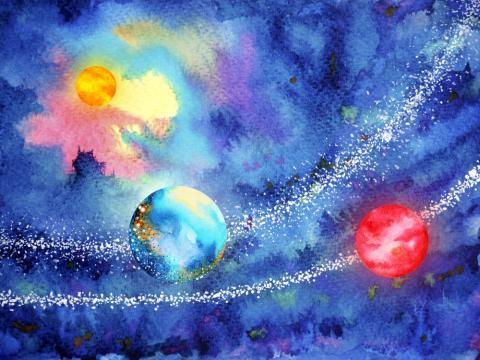 The Karmic Tools Weekly Forecast covers the current planetary transits which affect people in different ways and to various degrees of intensity.  Take notice when it is a Personal planet (Sun / Moon / Mercury / Venus / Mars) interacting with a Social (Jupiter/Saturn) or Collective planet (Uranus / Neptune/Pluto).  And pay extremely close attention when it is a Social planet interacting with a Collective planet because that means something *big* is brewing that will move large groups of people along their evolutionary paths. Tuning in to the energy and rhythm of the planets can serve as a useful *guide* as you move along your Individual Path.  It also helps to understand your place within the context of the larger Social & Collective Story. Below, you will find out how these energies tend to manifest, as well as guidance and direction.  *NOTE*  There are some days when there are NO CONTACTS (besides the Moon), please note that there are no missing entries, we just list the actual Activations of each week + the day they happen.  
Weekly Forecast:  March 31 – April 6, 2019
4/2 ~ Mercury (communication/expression) ~conjunct~ Neptune (imagination/spirituality):
This is a mixed blessing, but definitely an initiation either way. It can be miraculous for creativity, art or exploration. I like this one for a personal 'conversation with God', your Higher Self, your SoulSelf. As with any initiation, a completion must come first, and in this case with Mercury, it's time to expand your thinking in some way - go deeper. Invite your Ancestors, Angels & Animal Guides to answer your questions and guide you at this time. Communing with them is much more supported than communing with the humans around you. So if you need to think about the mundane or confront someone about something which requires complete honesty from both parties, things could get a little hazy & confused thanks to Neptune here. There is always a veil to contend with when dealing with Neptune, but you have to know which side of it you are on so you are in alignment with the Nature around you (3D vs 5D). This energy tends to color reality, misleading you to think you are being perfectly clear in your communication or what you're trying to express, while others are completely lost. It's better to say nothing, rather than be completely misunderstood.
This article originally appeared on Karmic Tools!