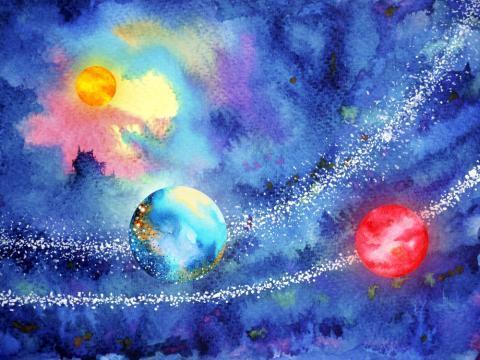 The Karmic Tools Weekly Forecast covers the current planetary transits which affect people in different ways and to various degrees of intensity.  Take notice when it is a Personal planet (Sun / Moon / Mercury / Venus / Mars) interacting with a Social (Jupiter/Saturn) or Collective planet (Uranus / Neptune/Pluto).  And pay extremely close attention when it is a Social planet interacting with a Collective planet because that means something *big* is brewing that will move large groups of people along their evolutionary paths. Tuning in to the energy and rhythm of the planets can serve as a useful *guide* as you move along your Individual Path.  It also helps to understand your place within the context of the larger Social & Collective Story. Below, you will find out how these energies tend to manifest, as well as guidance and direction.  *NOTE*  There are some days when there are NO CONTACTS (besides the Moon), please note that there are no missing entries, we just list the actual Activations of each week + the day they happen.  
Weekly Forecast:  February 17 – 23, 2019
2/17 ~ Venus (essence & natural beauty) ~sextile~ Neptune (consciousness & vision):
This energy connects your true values & priorities to the planet of dreams, mysticism & other dimensions (Neptune). You have an opportunity to gain some traction on making your vision tangible just by connecting to the essence you want to experience. Feel the feeling and that will lead to the physical manifestation. This energy helps you believe in what is possible and supports any artistic expression or active practice, such as vision boards, affirmations etc, that which helps you hone the actual vision. Steps & strategies are for other planets, Venus only cares about the essence of nature & love and Neptune is definitely not who you'd work with for 'steps/strategies' ; -) Tune in to the natural beauty around you and suspend any usual inner dialogue for a day or two (as soon as you can) so you can connect to some  inspiration guided by your own Heart & Soul (from the inside-out).
2/18 ~ Sun (source & essential Self) ~sextile~ Uranus (freedom & individuality):
This activation will help you access a deeper sense of authenticity as everyday routine events may be enlightening this week. Anytime Uranus is involved 'ah-ha moments' are available, those sudden inspirations or the surprising clarity that changes everything is bubbling near the surface, you need but invite it in (to your conscious mind to be useful). Eventually, you will have to ground these breakthroughs in some physical form, but this energy supports the exploration of possibilities. Where can you use a dose of freedom & liberation? This energy also promotes 'authentic living' - you won't be able to be phony, nor tolerate it in others this week. Just remember that truth sometimes rattles those who would rather play 'nice' (keep up appearances/status quo) than face the facts, so watch out for rebelliousness, if not in you then in others. This is not a disruptive energy, except to those who resist change. Don't fight it - embrace it! Change is good, it means you are growing!
2/18 ~ Venus (values & priorities) ~conjunct~ Saturn (responsibility & structure):
(2 of 3 in Capricorn:  12.25.2017 ~ 2.18.2019 ~ 12.11.2019)
This is a powerful initiation, when you can infuse your current reality with more beauty & true value, as well as anchor a renewed sense of your own Inner Authority. This is your life, and it is way too short to be living someone else's values or priorities. This energy supports you entirely, for renewing your commitment & dedication to that which is most important to your Heart & SoulSelf. Saturn lends fortitude, strength & resolve to the current process of pruning the non-essential, plugging energy-leaks and protecting what you love. If you define what you truly love & value, (re)commit and channel this considerable power & energy, then you will find that all you need, desire & deserve can    manifest, take root & grow ~ with ease, grace & beauty! Venus rules our relationships, often a Saturn contact pushes us to face the reality, and renegotiate the relationship so that both parties can (re)commit with integrity, and at a new level where everyone knows their roles & responsibilities.
*Saturn in Capricorn (2018-2020) gives support for stabilizing the fundamentals in your life: home/work or personal/professional and self/other or individual/relationship. Saturn rules Capricorn and is strongest in this placement. It will be initiating in your Capricorn House, integrating balance in your Cancer House and testing your Aries/Libra Houses to grow out of comfort zone and into new territory. Last time we got a Reality Check like this one was the late-1980's so this is a potent time to let go of anything unstable and all used up so you can create a whole new foundation for living. Saturn rewards hard work, dedication and being responsible for your Self and all that you contribute to the planet and even moreso in its home sign. Take advantage of this couple of years to take a serious look at your personal values & priorities and how they contribute to the greater whole, for better or worse.
2/19 ~ Mercury (communication/expression) ~conjunct~ Neptune (imagination/spirituality):
This is a mixed blessing, but definitely an initiation either way. It can be miraculous for creativity, art or exploration. I like this one for a personal 'conversation with God', your Higher Self, your SoulSelf. As with any initiation, a completion must come first, and in this case with Mercury, it's time to expand your thinking in some way - go deeper. Invite your Ancestors, Angels & Animal Guides to answer your questions and guide you at this time. Communing with them is much more supported than communing with the humans around you. So if you need to think about the mundane or confront someone about something which requires complete honesty from both parties, things could get a little hazy & confused thanks to Neptune here. There is always a veil to contend with when dealing with Neptune, but you have to know which side of it you are on so you are in alignment with the Nature around you (3D vs 5D). This energy tends to color reality, misleading you to think you are being perfectly clear in your communication or what you're trying to express, while others are completely lost. It's better to say nothing, rather than be completely misunderstood.
2/19 ~ Mercury (communication) ~sextile~ Saturn (responsibility):
This energy is really good for being able to objectively see what needs to be changed, fixed or stabilized in your life or environment. One expression of this energy is a tendency toward depression or apathy, but a better expression would be facing what needs to be done and following through on what you have begun. You may feel the need to organize things at home or work, or perhaps take a class or workshop of some sort that will help you attain your current goals. Either way, be focused but not too serious - balance in all things. It's when you focus on the lack and limitation that you feel overwhelmed and sometimes helpless. That's not the point of this energy. It's just time to do some serious thinking, tend to the details, take stock and make changes accordingly.
2/22 ~ Mercury (expression) ~square~ Jupiter (truth):
This energy challenges you to integrate your smaller vision with the larger vision for your life. On one hand, you can see the big picture in new ways, but on the other hand, you may not be very interested in the details that bring it about. This is another good one for expanding your consciousness and thinking outside the box, but as the insights come into your conscious awareness, be mindful of the steps it will take to make your ideas a reality. This activation is also great for course-corrections where your ideas are concerned and will open you up to learning something new or bring in a crucial piece of information, just keep in mind that you will have to stabilize anything you start and probably have to review some details down the road because of something you overlooked in your enthusiasm for the new Truth revealed from within.
2/22 ~ Venus (love, finances & relationships) ~conjunct~ Pluto (purification & transformation):
This is an initiation and an energy that supports a brand new beginning in your personal life. Some aspect of your values & priorities has shifted or run its natural course and this is a time to move in a completely new direction, even if it only feels like moving to your own next level (with love, finances or relationships). Pluto adds intensity to the mix, for better or worse, but also grants rare access to profound levels of connection within and with those you are in alignment with on a Soul-level. This is the ultimate support for the power of love to transform ALL. Because your values and priorities are changing, relationships must also undergo a similar adjustment (when you change, everyone around you changes or goes away). Beware of value differences that can cause power struggles which are not productive, that's ego distracting you from the opportunity to release some dead weight and move into the new with more ease & grace. Try to create circumstances that are win/win and mutually beneficial, this will allow the relationship to evolve, rather than devolve or revolve back into the new cycle and thus, repeating a negative pattern.
2/23 ~ Mercury (communication) ~sextile~ Pluto (transformation): 
This energy provokes the need to delve deeper into the ideas or information being presented at this time, whether personal or professional. You will want to dig deeper, ask the hard questions and gather insights that are deeper and more profound than usual. In your professional/public life, you may find yourself doing better due-diligence and in your personal/private life, you may find yourself digging a little deeper into your own mental patterns & personal history (that has led to 'now'). As you make these connections and begin to grasp these new insights, they will gain traction and you will become more grounded in your own Truth. We all get excited about those kind of ah-ha moments, and you may find yourself wanting to share them with others who may or may not be ready to hear such deep Truths or have the conscious awareness to even process them, so use some discernment around who and when you share these new-found insights.
 This article originally appeared on Karmic Tools!