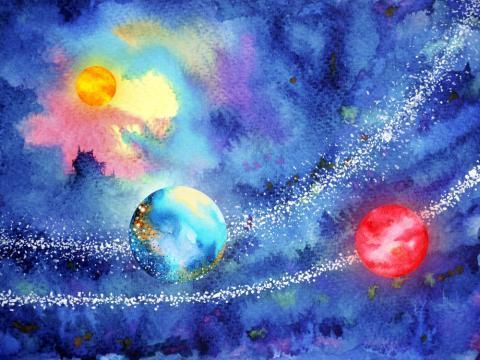 The Karmic Tools Weekly Forecast covers the current planetary transits which affect people in different ways and to various degrees of intensity.  Take notice when it is a Personal planet (Sun / Moon / Mercury / Venus / Mars) interacting with a Social (Jupiter/Saturn) or Collective planet (Uranus / Neptune/Pluto).  And pay extremely close attention when it is a Social planet interacting with a Collective planet because that means something *big* is brewing that will move large groups of people along their evolutionary paths. Tuning in to the energy and rhythm of the planets can serve as a useful *guide* as you move along your Individual Path.  It also helps to understand your place within the context of the larger Social & Collective Story. Below, you will find out how these energies tend to manifest, as well as guidance and direction.  *NOTE*  There are some days when there are NO CONTACTS (besides the Moon), please note that there are no missing entries, we just list the actual Activations of each week + the day they happen.  
 
Weekly Forecast:  December 2 – 8, 2018
12/2 ~ Sun (source & essential Self) ~square~ Mars (desires & actions):
This is a challenge about your energy and how to direct it properly. You started something about 6-months ago that now challenges who you are and what you want, so adjustments must be made. It's not a good/bad thing, just a test to get out of your comfort zone and into new territory. You are supported to get your true desires congruent with what/who you present to the world. As you develop that, often the first things that come up are what's not working. It may seem as if the Universe, and a couple of humans for good measure, will be pointing out your weaknesses, short-comings, lack of preparation and mistakes you've made. Be careful not to take things personal, but keep in mind that if it's being brought into your awareness, you can learn from it. Keep self-preservation in mind, and be compassionate with others struggling with their own identity issues at this time. This is energy that needs a positive, physical outlet too. If you can channel it through physical exercise or an activity you love you may find that the *Moving Meditation* opens you up to better choices and more authentic decisions, while denial & suppression only lead to disappointment, illness or accidents.
12/5 ~ Sun (core essential Self) ~square~ Neptune (illusions & delusions):
This activation can cause self-doubt, self-delusion and an overall confusion that seems to be sourced within or self-directed. It's only temporary, this is just the Universe's way of slowing you down so you can see where your goals may have been unrealistic or based on flights of fancy. If your energy is low and you're feeling challenged to see the bright side of things, it is better to just time-out, rest & replenish (if possible) and most of all, do not initiate any grand plans as you are not really seeing things as they truly are at this time. Luckily, this is a pretty short-lived activation.
12/7 ~ Mars (actions & desires) ~conjunct~ Neptune (dreams & visions):
This energy is great for tapping in to your intuition and acting on its promptings. If you're focused on your dreams at the moment, this will give you a boost of creative energy. It is time to expand your vision and play a little. This is not necessarily a time to push your body, but your imagination! How well do you do with your action, fearlessness, passion, and desire nature? If you resist these aspects of your nature, this energy will be tough to navigate. Sometimes you can feel much like you're walking on the bottom of the pool, instead, try to practice floating above it all rather than letting it get you down. This energy reminds us that effectiveness is more important than speed in most cases, so watch what gets you fired up and direct it consciously, be pro-active rather than re-active, use your imagination every chance you get and embrace opportunities to improvise. Be gentle & compassionate with your Self and others, honoring all wherever they may be on their chosen Path. 
This article originally appeared on Karmic Tools.  
Kelly's KarmicTools Weekly Forecast also on youtube here!