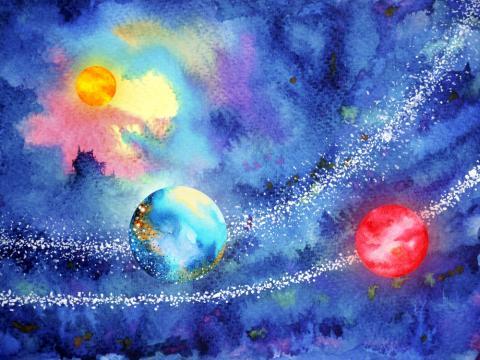 The Karmic Tools Weekly Forecast covers the current planetary transits which affect people in different ways and to various degrees of intensity. Take notice when it is a Personal planet (Sun / Moon / Mercury / Venus / Mars) interacting with a Social (Jupiter/Saturn) or Collective planet (Uranus / Neptune/Pluto). And pay extremely close attention when it is a Social planet interacting with a Collective planet because that means something *big* is brewing that will move large groups of people along their evolutionary paths. Tuning in to the energy and rhythm of the planets can serve as a useful *guide* as you move along your Individual Path. It also helps to understand your place within the context of the larger Social & Collective Story. Below, you will find out how these energies tend to manifest, as well as guidance and direction. *NOTE* There are some days when there are NO CONTACTS (besides the Moon), please note that there are no missing entries, we just list the actual Activations of each week + the day they happen.
Weekly Forecast: December 17 - 23, 2017 12/20 ~ Venus (love, finances & relationships) ~trine~ Uranus (freedom & liberation):
This energy is likely to bring a little excitement into your life, one way or another. This is a good time to do something different, try something new & consciously put your Self in situations where you have to improvise & think on your feet. We are in times of breaking old patterns and re-setting them in more positive, effective ways. You can still live your true values & priorities, but in new & different ways. This blessing from the Cosmos allows you to align with more personal authenticity, which in turn is infused into all that you love & treasure. Relationships will have an unusual energy to them; an established relationship may sparkle with some extra "spice" or a new relationship begun under this energy may be stimulating & unusual but probably short-lived too. This is not a bad thing! It's perfect for experimenting with new ideas & expressions to see what your Heart aligns with. Use this energy to soak up some good energy from those who live on the fringes!
12/21 ~ Sun (core-identity) ~conjunct~ Saturn (responsibility): This energy gives you a strong dose of purpose & direction, but also reminds you that those big dreams require a solid foundation in order to flourish. The wheels that get set in motion this week are creating your future, for better or worse - so pay attention! While this is often about career matters, it is also about your responsibilities in general, the things you have to do that cannot be delegated to others. This is great energy for organizing and planning, creating order, and organizing your Self or your life in some way that fortifies your position. If you don't "do the work" that you know you are supposed to be doing at the moment, you will only feel worse. So don't delay anything that can, and probably should, be done sooner versus later. This energy can also make you feel a little lonely or depressed, don't give in to that. There is a time to be out and about and time to get down to business. And right now, you have probably already put some things off and that is only going to contribute further to your stress levels. Make a list of things to do, prioritize them and start checking them off. 
This article originally appeared on Karmic Tools.