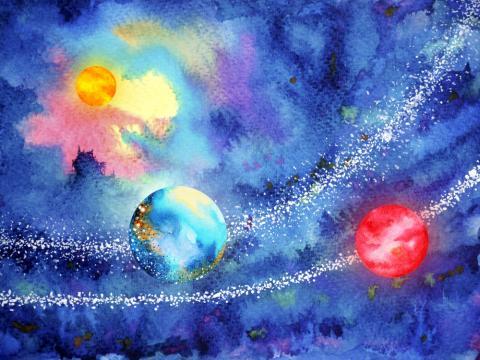 The Karmic Tools Weekly Forecast covers the current planetary transits which affect people in different ways and to various degrees of intensity.  Take notice when it is a Personal planet (Sun / Moon / Mercury / Venus / Mars) interacting with a Social (Jupiter/Saturn) or Collective planet (Uranus / Neptune/Pluto).  And pay extremely close attention when it is a Social planet interacting with a Collective planet because that means something *big* is brewing that will move large groups of people along their evolutionary paths. Tuning in to the energy and rhythm of the planets can serve as a useful *guide* as you move along your Individual Path.  It also helps to understand your place within the context of the larger Social & Collective Story. Below, you will find out how these energies tend to manifest, as well as guidance and direction.  *NOTE*  There are some days when there are NO CONTACTS (besides the Moon), please note that there are no missing entries, we just list the actual Activations of each week + the day they happen.   
Weekly Forecast:  December 10 - 16, 2017
 12/10 ~ Mercury (voice) ~trine~ Uranus (individuality): 
This activation gives you access to your Higher Mind and opens the way for new, deeper insights that can guide & direct you at this time. Business as usual will not work, it's time to open up to the unusual, do something different, look at things from another angle and watch the ah-ha's start pouring in. Your intuition will be firing on all cylinders, giving you access to unprecedented clarity. While your thinking may lack discipline, your ability to access solutions to any recent (or long-standing) challenges will be off the charts. This energy will not be contained, even though it is generally all mental, you really will have a hard time keeping up with the ideas, thoughts, concepts & intuitions that come to you under this influence so try to take notes that you can refer to later when the grounding will be necessary. Pay attention to the messages that come through/from others as well since you never know how the Universe will show up. This alone is an indication that whatever your consciousness may not have been previously ready to assimilate or process is awakening now to that which is just for you!
12/10 ~ Venus (love, finances & relationships) ~square~ Neptune (illusions & delusions):
This energy is great for creative flow. If you are artistically inclined in any way, you will have access to an energy that will allow you to create something amazing. Dig deep and allow your Self to free-flow! This energy can also challenge relationships (personal or professional) to 'keep it real' in some way and ones which are not on a true, solid foundation are likely to dissolve under this influence. When Neptune is involved, we see life through a completely different kind of lens, often seeing the potential rather than the reality of the situation. Detach & Trust. This activation is just helping you align your true values & priorities with the vision in your mind & heart, but you will have to expand your consciousness in some way, follow your inner compass and take practical steps going forward.
12/12 ~ Mercury (communication & self-expression) ~conjunct~ Sun (core essential Self): 
This energy will compel you to express yourself on many levels. Communication will be a focus, just make sure it is reciprocated. You will have access to some powerful energy that can (and probably will) make quite an impression on others (if you need to). This is a good time to travel if possible too. However, if not physically, than mentally and certainly within your own area, you will take in more information per square inch than usual. Pay attention! You may even gain the much deserved recognition from others that you have worked so hard for.
12/15 ~ Mercury (ideas, thoughts & concepts) ~conjunct~ Venus (values, priorities & resources): 
This energy encourages you to see the Divine Order or the unifying theme running through the events of your life ~ good, bad & indifferent as well as past, present & future. This is an initiation of new values around communication, self-expression and the value of your ideas. You may finally be able to express ideas that have been percolating in your head, some people say "I love you" at this time, or articulate their feelings in deeper, more expressive ways. It's really *juicy* for your Inner Artist, this is the beginning of expressing your creative ideas in altogether new & different ways than ever before. Allow your Imagination to free-flow. Play with ideas with no attachment to outcome. Take advantage and explore all that this energy stirs within you, but don't give in to over-thinking/processing things. These connections are richer, giving you access to deeper personal growth & development through a new understanding of how all the events of your life work together for good, ultimately. You can see the necessity of certain challenges and clearly see your own personal mastery thus far. Celebrate and choose to create some new thought patterns that integrate and reflect more beauty throughout your life.
12/16 ~ Sun (core identity) ~trine~ Uranus (individuality): 
This energy is wonderful for a little self-examination and taking action on your own behalf. Look at your habits, home situation, work or anything else that is important to you and look at how you've gotten to where you are. What kind of choices led here? This is a good time to look around and see how you can conserve what is useful and release that which is no longer relevant for you going forward. It's also a good energy for organizing & clearing the decks, so to speak, of things that have piled up but still need to be dealt with (or released altogether). You may be feeling very practical, possibly selfish, but it's actually self-preservation. 
This article originally appeared on Karmic Tools.