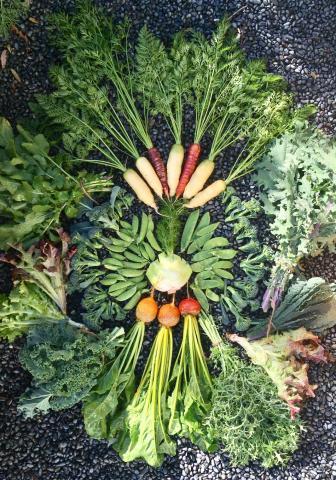 Wouldn't it be nice to have fresh fruits, veggies, and herbs available right in your yard? If you embrace edible landscaping, you can enjoy this experience practically year-round and save money to boot. Veteran Edible Farmer Rosalind Creasy shares that while these types of gardens do require an initial investment of time and money, they offer significant savings on produce costs—for example, in 2008, the value of the vegetables she grew in a 100-square-foot garden totaled more than $675. Also, a well landscaped and maintained yard can add about 10 to 19 percent to the value of your home, according to The National Gardening Association. So, why not landscape your land in a beautiful, nutritious and delicious manner?
If you're not sure where to start, you could begin by just swapping out a few bushes with herbs like rosemary or lining a patio with salad greens. If you are ready to embark on a full garden or yard transformation, it's a good idea to do some planning first. Envision where paths, fences, and the rows, bocks, or clusters of plants will be placed. Raised garden beds can add variation and visual interest to the setup, along with providing good drainage and serving as a barrier to some weeds and pests.
Depending on the plants you choose, "Edible garden beds may be filled with young seedlings or even be empty at times. That's when paths, arbors, fences, hedges, and even a birdbath are vital for keeping things attractive," writes Creasy in Mother Earth News. Be sure to choose plants that can flourish in your climate and consider their size, color, and fragrance in your plan. You could alternate white and purple cabbage to create a striking pattern or include lavender to introduce a calming scent. Try blueberry shrubs, hot or sweet peppers, or edible flowers like nasturtiums—the possible combinations are endless. If lack of sun is a concern, spinach, beets, and radishes are just a few of the edibles that can grow in the shade.
Items of produce fresh from your garden are more likely to be ripe and fresh than those found in a supermarket. You can choose to use organic farming methods in your edible landscaping and reduce your chemical ingestion. You will also be positively impacting the environment because growing food at home uses much less energy and water than larger-scale farms and agricultural endeavors.
Edible landscaping is popular in individual yards, neighborhoods centered on a working farm, known as "agrihoods," and also in commercial settings. As well as providing a convenient bounty, they bring people in a community together around the land and the joy of cultivation and eating.
"Particularly in urban environments, they're not just much-needed green spaces, but dynamic landscapes, full of life, and changing on a daily basis," says Dan Allen, CEO of Farmscape, the largest urban farming venture on the West Coast. Farmscape installs and maintains raised vegetable beds using an organic soil blend and drip irrigation systems. They create and serve residential and commercial gardens, and their clients have included Oracle, North Face, Levi's Stadium, and AT&T Park. When a company embraces edible landscaping, their employees get to reap the benefits of the on-site garden, both through spending time working outside with Farmscape's local famers and taking home some of the delicious harvest.
Allen helped grow the business from a backyard project in Claremont, California, and now much of his day-to-day routine "involves designing and overseeing the creation of new urban farms throughout the city." He tells Basmati about several of their edible landscaping projects, including a seven-year collaboration with Chef Niki Nakayama. Their creative gardening partnership began when she wanted a backyard garden for her soon-to-debut restaurant, n/naka. "It was an opportunity for me to see the fresh fruits and vegetables in our gardens through the eyes of a brilliant chef," says Allen. The Farmscape team has also integrated new varieties of crops that Nakayama introduced them to into their seasonal crop guides.
Allen enjoyed learning from the chef about the different uses and values of vegetables during their various stages of growth; "arugula bolts can be used for its flowers, while an overabundance of shiso can be dehydrated and turned into a powder." Nakayama also went on to transform her own front yard into an edible garden.
Allen says it's common for edible landscaping to become contagious and that their "projects frequently expand once people have the opportunity to enjoy the fresh produce that they provide."
Have you caught the edible landscaping bug?