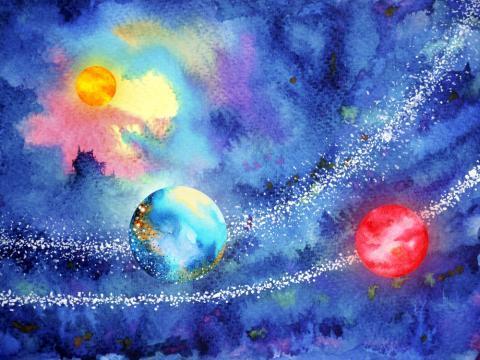 The Karmic Tools Weekly Forecast covers the current planetary transits which affect people in different ways and to various degrees of intensity.  Take notice when it is a Personal planet (Sun / Moon / Mercury / Venus / Mars) interacting with a Social (Jupiter/Saturn) or Collective planet (Uranus / Neptune/Pluto).  And pay extremely close attention when it is a Social planet interacting with a Collective planet because that means something *big* is brewing that will move large groups of people along their evolutionary paths. Tuning in to the energy and rhythm of the planets can serve as a useful *guide* as you move along your Individual Path.  It also helps to understand your place within the context of the larger Social & Collective Story. Below, you will find out how these energies tend to manifest, as well as guidance and direction.  *NOTE*  There are some days when there are NO CONTACTS (besides the Moon), please note that there are no missing entries, we just list the actual Activations of each week + the day they happen.  
Weekly Forecast:  October 20 - November 4, 2017
11/3 ~ Venus (relationships) ~sextile~ Saturn (responsibility): 
This energy has to do with your obligations within the context of relationships. They are not difficult obligations (in this case) but more emphasis is placed on enjoying serving those you love. This is also what I would call the "keep it real" energy, regarding relationships. This energy makes you want to really sit down and define your terms within your relationships (which I am a total advocate of). It's really hard to grow to the next level when each person is not clear on what the other expects. Of course, this starts with you knowing what you want/don't want and what you are willing to compromise about so you can articulate that clearly.
11/3 ~ Sun (authentic Self) ~trine~ Neptune (intuition): 
This energy triggers your idealistic, altruistic inclinations, but remember that help has to be invited. But if you have the energy to share & to spare, then dedicate your Self to something greater than you. Choose a cause to support or help those less fortunate for the sheer pleasure of giving. If your energy is low at this time, it is better directed inward. If you can, take some extra time in intentional solitude, praying, meditating and connecting to Spirit this week, you will be rewarded with deep revelations & mystical discoveries within you. It's a great time to do divinations, ritual or ceremony if you're into that. Your intuition is heightened also, so pay attention to any 'messages' that come through or to you. Try to use this energy to reflect on where you are and dream a little about where you want to be, mentally, spiritually and physically in 6-months to a year from now.
11/4 ~ Venus (values) ~oppose~ Uranus (freedom):
Any time Uranus is involved, it becomes the "wild card" and hard to predict how things will unfold, but right now there is a push-pull between your apparent values and your unique individual self. Venus also represents relationships, so you may begin an unusual relationship or you may have something unusual happen in an established relationship.  It is not necessarily a "good/bad" thing, as much as an unpredictable shift or sudden awareness, which requires some compromise & integration. This energy works beautifully if your personal Truth and values are in alignment. It will be very disruptive if they are not. Be open and flexible, while looking for the win/win situation for all involved.
This article originally appeared on Karmic Tools.