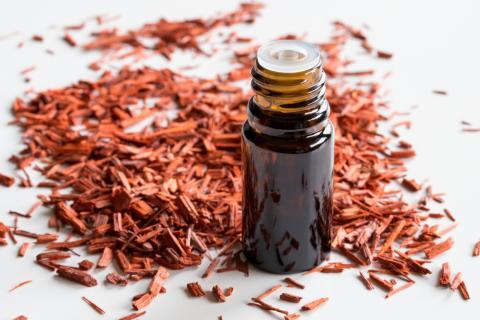 Sandalwood refers to wood from trees in the genus Santalum. Sandalwood trees grow in India, Asia, and places like Hawaii. There are many types of wood that have desirable fragrances such as cedar and cherry trees but the scent of those trees fades pretty quickly compared to the sandalwood. The sweet, warm, woody, and soft scent of sandalwood stays strong for decades. Sandalwood's sweet aroma has been around and highly valued for many centuries.
Indian Sandalwood is sacred in Ayurveda and is known in Sanskrit as Chandana. Sandalwood is considered to be sacred and holy in Jainism, Buddhism, Sufism, and Zoroastrianism, as well as Chinese and Japanese religious and spiritual practices. This wood is known for its spiritual, mental, and physical healing benefits. Let's explore five of the many healing benefits of Sandalwood.
Healing With Sandalwood
Sandalwood has been used medicinally for centuries for the mental clarity, focus, and calming effects. Here are five healing properties of sandalwood.
If those five health benefits don't spark your attention, this might. There is research that shows both Frankincense and Sandalwood essential oils help kill cancer cells, at least in the bladder.
Sandalwood is an amazing tree and essential oil. It is also used as an antispasmodic, aphrodisiac, and astringent, and has pain-relieving properties.
I hope this week's walk through the medicine cabinet finds you well and in a good way! Essential oils are incredible medicines for the mind, body, and spirit, all the same. Sandalwood fits into all three of those categories, helping you function in all ways. Your body, mind, and spirit can all be uplifted and receive amazing healing benefits. Happy Healing!