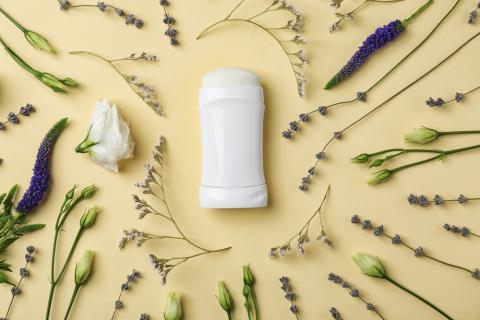 I'm disgusted with most conventional deodorants: They contain harmful ingredients like aluminum and parabens! Not to mention antiperspirants aren't healthy either: Anything that inhibits your body's natural sweating ability is dangerous. What's the solution? Making your own homemade deodorant! There are all-natural deodorant brands out there (you just have to do a little digging), but doing it yourself will save you a buck. Not to mention you get complete control over what's in it and how it's packaged.
I know this sounds weird, but this particular deodorant recipe is not a stick: It's more like a lotion. You slick some onto your finger and apply it to your pits. While it's a little different, it's still super simple. Plus, it can be stored in a glass jar (so before you throw out your empty jelly jars, rinse and save them for this DIY!). I recommend buying the ingredients in bulk if you can (all of them are available online, by the way), so you can make more whenever you run out. 
All-Natural Deodorant Recipe
You can use any essential oils you like; try a blend of lavender and chamomile if you're looking for ideas. If you prefer a more invigorating scent, try lemongrass and thyme essential oil. The amount of essential oil you add greatly depends on preference: there's no right or wrong amount! Just make sure the essential oil of your choice is safe to use on skin.
Ingredients
3 Tablespoons Shea butter 
3 Tablespoons arrowroot powder 
2 Tablespoons baking soda 
2 Tablespoons coconut oil 
10-15 drops essential oil
Directions 
First, put the Shea butter and coconut oil into a glass jar (not the one you'll be storing the end product in). You can use a pint-sized jar. Set the jar into a pan of lightly boiling water until the Shea butter and coconut oil are liquefied. Alternatively, you can microwave the two in a microwave-safe bowl. 
Now give the melted contents a stir and add in the arrowroot powder and baking soda. Mix it together well.
Add in your essential oils. Feel free to create a unique blend combining two or more essential oils (ex: 5 drops of chamomile, 5 drops of lavender), or stick to just one essential oil.
Mix well. If it doesn't smell as strong as you'd like, add more of your chosen essential oil.
When you like the scent, pour the mixture into a glass jar and allow it to cool and solidify. Feel free to put it in the fridge to speed up the process. 
When you're ready to use it, apply a pea-sized amount under each arm. Your warm body temperature will allow it to spread easily. Preferably, let your deodorant soak in and dry for a few minutes before dressing. Now you're good to go!