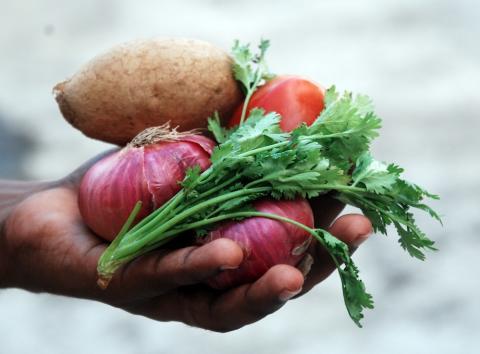 Running an organic, sustainable garden is not easy to do solo, especially when you have a larger garden with plenty enough to tend to.  Having support and assistance from others within your community can really lend a helping hand, and there are often people within communities who could truly benefit from gardens.  For those looking for ideas on how to gain gardening support within your community, check out these 10 ideas for connecting your garden with your community.
1.      Give and Share
I honestly don't know many people who would turn down free produce or herbs. If you want to try and connect with neighbors, why not try by giving them free produce? This offering gives you an opportunity to tell them about your garden, show them the wonderful bounty from it, and see if they would be interested in helping you. If they have their own garden, you can share different items and ideas from your garden with each other. I have personally found sharing and gardening items with other gardeners who live near me to be a very successful way of connecting with my own community.
2.      Produce Trading
If you know of others within your community who are growing produce, try doing a produce swap. A lot of the time, when growing too much of one type of produce, it can be hard to figure out what to do with it.  Exchanging produce you have a lot of for produce you don't have can be great for you and your neighbor both.  For instance, if you have an abundance of apples and your neighbor has a lot of squash, you can just swap with one another.
3.      Seed Swaps
Another easy way to connect with other gardeners in your community is by doing seed swaps.  If you neighbor has seeds you need and vice versa, you can just swap seeds with one another, instead of having to go to the store and purchase new seeds.  You can also check with your local seed library and see what they have to offer.
4.      Offer to Teach Gardening
I have a neighbor who connected and gained a lot of support from her community by offering to teach people how to garden and urban farm. She posted sign-up sheets throughout the neighborhood, and then people would come over to help while she taught them new techniques such as transplanting, composting, and even how to care for goats and chickens. Gardening and urban farming is growing in popularity, and there are plenty of people who have an urge to learn.
5.      Donate
Another way you can help connect and put some of that excess produce to use is by donating to community food banks. Within my community, we have a fruit tree project for urban farmers and gardeners to participate in. The project collects excess fruit from the fruit trees of farmers and gardeners within the community, and then donates them to people in need.
6.      Food Co-ops
Getting in touch with food-co-ops in your area is another way to connect with people and other gardeners in your community. Some co-ops can offer volunteers to help you with your garden in exchange for produce or herbs for them to sell. In addition to that, many food co-ops have a set day in which people can sell some of their harvest items. Co-ops offer a good way to get into touch with others who are like-minded, and most of them even offer gardening classes for those who want to learn new skills.
7.      Work-Trade
Doing a work-trade is a way for you to get help in your garden, while giving people in your community a way to access fresh produce. Offering a chance for people to work in your garden for fresh, organic veggies, herbs, or fruits is an easy way to gain help from others within your community. Many people desire to have organic, fresh produce, but may not be able to because of high prices or lack of access. This provides a great opportunity for you to get help in your garden, while helping others.
8.      Employee Community Garden
Do you work with or have employees who desire to garden? Try starting an employee community garden. Employee community gardens are starting to increase in popularity. They are a great way for employees to connect with each other and as a method for boosting morale. Turning your garden into the employee community garden can be a great way to get some extra help.
9.      Gardening Support Group
Know a lot of gardeners or people in your community who may be interested in gardening? Try starting a community gardening support group. Having a gardening support group could be an awesome way for gardeners and interested individuals within your community to help each other out. You could set days for such things like assisting one another with harvesting or planting.
10.  Connect with Social Media
Although connecting face to face is the best for personally connecting with your community, social media can be an easy way to reach out to people in your community for gardening support. There may already be online organic gardening groups that you can join through social media in your area. In today's world of technology, it is a simple approach to share ideas and information.
There are many advantages to connecting your garden with your community, and you may be surprised at how many meaningful relationships you can grow by just reaching out to your community.  
Stay tuned for more organic home gardening tips and ideas!