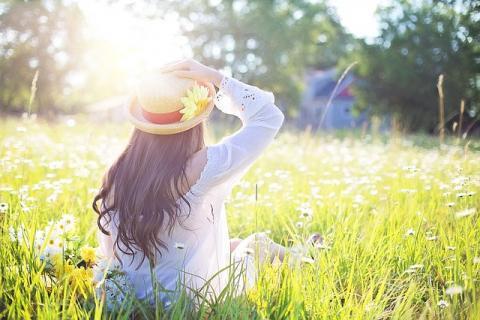 What is your wild side?
It's the part of you that belongs in nature, not sitting in front of a computer all day.
It's the part of you that wants to frolic in meadows with the wind tousling your hair.
It's the part of you that lives underneath the soil and blooms with the spring air, blossoming into a creature of pure beauty.
If you long to reconnect with this side of you, there's no shame in it. Here are some fun, simple ways to embrace your inner wild child. The best part? None of them cost money.
Take a hike.
Plan an adventure.
Plant an herb garden.
Hug a tree.
Cook with foraged berries.
Spend a day working on a farm.
Lie on warm grass and sunbathe.
Do tai chi in a park.
Wear flowers in your hair.
Go bird watching.
Feed the birds
Make your own all-natural makeup.
Eat only raw, vegan food for an entire day.
Swim with sea turtles.
Smile at everyone you see.
Look for animal tracks in the snow (or mud!).
Frolic through a meadow.
Make plantable seed paper.
Make friends with neighborhood strays.
Do yoga outdoors.
Choose your favorite floral scent and wear it all the time.
Create seed bombs and throw them in desolate places.
Press and dry flowers using big, heavy books.
Learn about the healing power of herbal remedies.
Dedicate a day to cleaning and recycling all the litter you see in your neighborhood.
Forage for mushrooms – using a well-versed guide.
Have a picnic in a meadow or on a beach.
Go stargazing.
Tell time by sundial.
Collect rosehips from beach roses and make yourself tea.