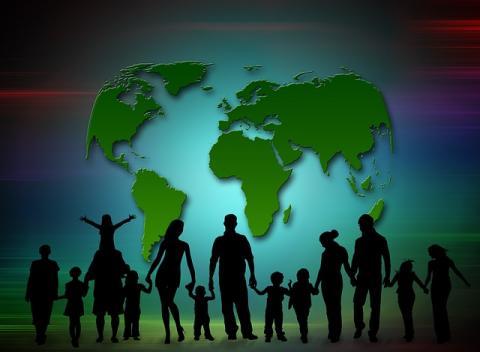 There are many areas, beings, and aspects of our Earth that need care and protection from the harmful effects of human civilization. Luckily, there are numerous ways each of us can help out the Earth in 2017:    
1. Engage with Your Local Environmental Organizations
One of the most effective and personally rewarding ways to make your ripple of positive change for the environment is to start locally. Marc Yaggi is the Executive Director of Waterkeeper Alliance, the largest nonprofit solely focused on clean water which "fights for every community's right to swimmable, drinkable, fishable water." He told us that:
A critical way to help the Earth in 2017 is to support and engage with local organizations in your community that are vigilant and are protecting your right to a healthy planet. In 2017, we expect to be facing an onslaught of threats to our rights to clean water and air. We must all be the change agents who work together to defeat these threats and create a world where clean water is a given and a reality for all, and a world where we treat all human beings and our environment with dignity and respect.
Seek out your local environmental group(s) and find out what kind of support they need and how your abilities can be put to good use.
2. Take Action against New Pipelines and Non-renewable Energy Development
If you've been inspired by the Water Protectors protesting the DAPL, you can explore and contest other proposed pipeline projects, such as the Southeast Market Pipelines Project in Florida; the Diamond Pipeline in Arkansas; and the Atlantic Coast Pipeline across West Virginia, Virginia, and North Carolina. Southern Environmental Law Center (SELC), a nonprofit which has protected the South's environment for decades, is a key player in the opposition to the Atlantic Coast Pipeline. SELC Senior Attorney, Greg Buppert, is their top expert on this pipeline and he told us that,
We're working to oppose a new natural gas pipeline in our region and to encourage utilities to more aggressively pursue projects involving renewable energy. The proposed Atlantic Coast Pipeline is a $5 billion project that would trap our region into dependence on natural gas for as long as 80 years. If Dominion customers, lawmakers, and regional leaders rejected this pipeline in favor of a focus on alternative energy options like solar and wind, that would go a long way to saving the Earth.
If you'd like to be involved in the resistance to the Atlantic Coast Pipeline, learn more from The Allegheny-Blue Ridge Alliance, of which SELC is a founding member, Appalachian Voices, and Wild Virginia.
Also, fracking is an environmentally dangerous fossil fuel extraction procedure that in December of 2016, the EPA confirmed can contaminate drinking water. If you're interested in learning more about joining the anti-fracking movement, check out Food and Water Watch's Global Frackdown.
3. Use and Support Renewable Energy Sources
Consider using solar; geothermal; wind; hybrid electric systems, i.e., solar and wind; or hydroelectric power. The U.S. Department of Energy offers extensive resources on planning for home renewable energy systems and reducing electricity use. Popular Mechanics explains that large, rechargeable batteries such as Tesla's Powerwall can store excess renewable energy and "smooth out fluctuations in your renewable energy generation." If these options are not yet available or viable, you can support renewable energy in other ways. Tree Hugger shares some examples: voting for "green-minded politicians;" giving your business to companies that use, support, and develop green energy solutions; and buying green energy credits to reduce your electricity footprint.
4. Drive and Idle Your Car Less Often
Not letting your car idle and increasing your non-polluting transportation choices are both great ways to make a positive change for the environment. Heidi Ridgley shared some insights with us on this topic--she's the Editor of DEFENDERS Magazine from Defenders of Wildlife, which has been working to protect wildlife for 70 years:
Every year, idling U.S. drivers waste six billion gallons of gasoline and $20 billion. Not only is that a lot of destructive drilling and transporting of oil for nothing--at the risk of oil spills--but the fumes harm human health, wildlife and the environment. Vehicles left idling spew climate-changing carbon dioxide, smog-causing nitrogen oxide, and cancer-causing volatile organic compounds and particulates…To do your part, turn your car ignition off if you're idling for more than 10 seconds, warm up your engine and car interior by driving instead of idling, use your car less, walk, take public transportation, bicycle, carpool, spread the word, and ask people not to idle.
You can also consider driving an electric or hybrid car, which are rapidly gaining popularity. The Wall Street Journal shared in August of 2016 that, "a typical electric vehicle today costs $30,000 and will go about 100 miles on a charge, if that. Within a year, you'll be able to get double that range for just a little more money."
5. If You Eat Meat, Look for a Certified Wildlife Friendly Label
You can protect wildlife by supporting ranchers who use non-lethal deterrents to wildlife. Here's more from Ridgley of Defenders of Wildlife on this topic:
USDA Wildlife Services provides lethal wildlife-damage control at taxpayer expense, often to protect cattle and sheep from predators or because ranchers view some animals as a competitor for grass. In 2015, Wildlife Services killed more than 3.2 million animals…including 385 wolves, 68,905 coyotes plus pups, 480 black bears, 284 mountain lions, 731 bobcats, 492 river otters, 3,437 foxes and 21,559 beavers and more than 20,777 prairie dogs. Defenders of Wildlife is working to shape state and federal policies that will get the tools and techniques of non-lethal deterrents into the hands of Wildlife Services agents and ranchers. Defenders encourages ranchers to remove attractants like animal carcasses, to install temporary fencing around animals or during birthing, and to use livestock-guarding animals or hire a range rider to keep the herd together and ward off wolves at vulnerable times. Non-lethal deterrents are more effective, practical, and are likely less costly over the long run. If you eat meat, purchase it from ranchers certified by the Wildlife-Friendly Enterprise Network.  Look for "certified wildlife-friendly" or "predator-friendly" labels to show that there is market demand and to reward ranchers who practice coexistence with free-roaming wildlife.
6. Support Rainforest Conservation and Restoration
Looking to the tropics is "one of the most immediate and effective ways to care for the Earth and fight climate change," according to Dr. Paul Salaman, CEO of Rainforest Trust, a conservation nonprofit that helps save acres of tropical habitat around the world. He explains that:
Tropical forest conservation and restoration is a major aspect of the global warming solution; reducing carbon emissions is essential, but simultaneously pulling carbon out of the atmosphere (which is what rainforests do) would immediately and significantly reduce atmospheric carbon dioxide (CO2). While it is crucial that we transition away from the use of fossil fuels to combat global warming, the reality is that rainforest protection can happen much more quickly.
Dr.  Salaman also points out that rainforest conservation is incredibly economical and that, for a few dollars, "a person can protect an acre of vital Amazon rainforest that stores up to 180 metric tons of CO2."
7. Reduce Plastic Use
Millions of metric tons of plastic enter the ocean each year. Luckily, there are many new environmentally-friendly substitutes for plastic being invented and many ways for us to reduce our personal plastic use.  Candice Jones and Allison Love also work at SELC, as Legal Assistants, and they shared some insights on how they achieved this. "I stopped using plastic bags years ago," Love said. "It took practice, but I put reusable bags in my car where I could see them, and even put a sticky note on my steering wheel to remind me. Now I reap the amazing benefits of a plastic-bag free life." Jones and her family live in a neighborhood where the provided water isn't suitable, so they use bottled water for cooking and drinking. But, they switched to a more environmentally friendly source. "We use the services of Shenandoah Valley Water Company to provide an at-home bubbler and use refillable water bottles so we can eliminate the use of individual plastic water bottles."
Bonus: Environmental Art Projects: If you appreciate the power of creativity as activism, you may be inspired by these environmental projects in the arts: Ludovico Einaudi's Elegy for the Arctic, Matthew Willey's The Good of the Hive Initiative, Justin Brice Guariglia's work embedded with NASA's Oceans Melting Greenland Mission, Jill Averitt's Prayers not Pipelines, and Naziha Mestaoui's One Beat, One Tree.
These are just a few of the actions we can take to care for our natural environment; other possible green choices include recycling, conserving water, reducing food waste, being bee-friendly, joining a community garden, and using energy-efficient bulbs and appliances. Hopefully, these suggestions will resonate with you and boost your enthusiasm for acting in the interest of the Earth in 2017.