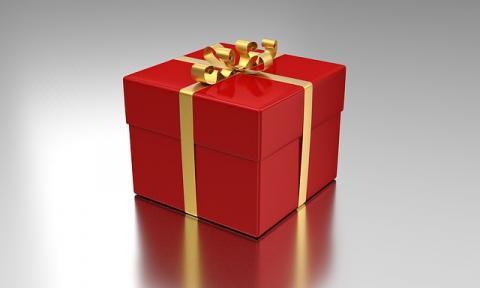 Not sure what to give the free-thinker in your life?
"Alternative" people can be difficult to buy for considering we tend to gawk at the idea of "buying" presents. Consumerism is at its height during the holidays, but a lot of non-conformists (or anti-consumers) won't set foot in a shopping mall, and have no interest in gifts from there, either. Here are seven stocking stuffer ideas for the free-thinkers in your family.
1.Crystals
This is an easy one. They will especially appreciate it if you give a little explanation on why you picked the ones you did. Three or four crystals in a little gift box is adorable and your new-ager will love the thought you put into choosing each stone. If you're not sure what to get them — stones like rose quartz, green adventurine, light amethyst and clear quartz are great for beginners. Think about what areas in their life might need some support and choose crystals accordingly. Be sure to include little print-outs on what each stone can offer the carrier.
2. A Notebook and Pen
Get your free-thinker a high quality notebook or journal to write down their deepest thoughts. Something simple like an artistic notebook or a (faux) leather-bound journal will be perfect for those late-night wonder sessions.
3. A Book from the Spirituality Section
Any free-thinker will love a book about meditation, philosophy or spiritual practices. Stay away from Eckhart Tolle and "The Secret" series as there is an almost 100% chance that they already own them. "The Tao of Pooh" by Benjamin Hoff is great as well as "Untethered Soul" by Michael A. Singer and "Footprints of the Gods" by Graham Hancock for the more esoteric set. Check out these other suggestions, too.
4. A Donation to a Charity
Think of a charity that your special little lightworker connects to and make a donation in their name. This will mean much more to them than that pair of slipper socks you were planning on giving them, which will probably just end up in the back of their closet anyway. Make a donation of 10-20 dollars and put the receipt in a colorful envelope. Don't be surprised if tears are shed. You might want to include some tissues as well.
5. Essential Oil / Floral Hydrosols
Did you know that peppermint improves focus and lavender promotes relaxation? My guesses are that your free-thinker probably lives a relatively natural lifestyle and the thought of spraying on those fake, paraben-laden designer perfumes is already enough to make their stomach turn. Not only do essential oils smell great, they have healing properties as well. Hydrosols — which is the sweet smelling broth leftover from the oil extraction process — are equally as effective and come in a handy spray bottle.
6. Smudge Sticks
Bring this Native-American tradition to life by including a package of smudge sticks in your loved one's stocking. Traditionally stuffed with sage or mugwort, smudge sticks are great for cleansing out the rooms in your home when the new year comes.
7. Fair Trade Chocolate
Drop in a few fair trade chocolate bars and your alternative darling will be jumping for joy — due to a caffeine rush, surely. When the chocolate is fair trade, they can rest assured that they are not eating the product of unfair wages and suffering -- plus, it just tastes better.