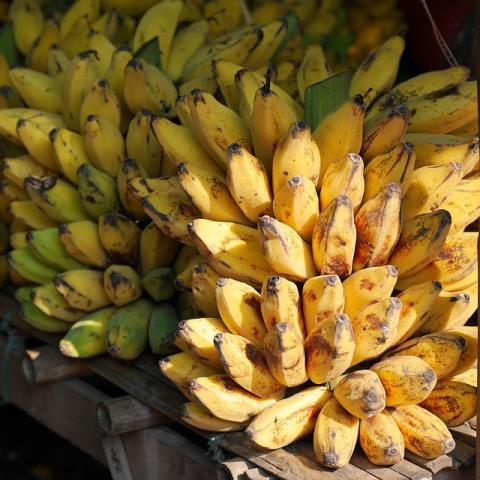 It's getting cold outside - put another banana on the fire!
Bananas are a common fruit seen in kitchens all over the world. We compost them regularly - but have you ever thought about using them for fuel?
Over 2 million bananas are grown and eaten in the country of Rwanda. But that means the skins, leaves, and stems are left in growing mounds to rot. In 2009, British university student Joel Chaney came up with a solution for the unsanitary conditions by finding a use for the waste product. 
Chaney turned the banana waste into bricks, using simple tools available to tribal communities. The banana skins and leaves are mashed into a pulp then mixed with sawdust or sun-dried banana stems. The mixture is compressed and baked in the sun, forming little briquettes that can be used as cooking fuel instead of wood from Rwanda's endangered forests. Tribes are able to make the briquettes themselves, saving natural resources and creating a system of reuse. 
Households in the African country of Uganda also rely on wood and charcoal for lighting and cooking, and collecting the fuel is time-consuming and arduous. Removing wood from forests also contributes to environmental degradation and deforestation. UNICEF Uganda partnered with scientists at the Ugandan Industrial Research Institute (UIRI) to produce the banana briquettes. With Uganda being the second largest producer of bananas, the decision to offer this product was easy. The briquettes are smoke-free, easy to manufacture and have a longer burn life than charcoal. 
The company, Green Bio Energy Ltd (GBE), has stepped up to teach the process of creating banana briquettes. French national Vincent Kiezler designed and developed machinery from local material. GBE distributes briquettes and improved, slow-cooking cook stoves designed to reduce fuel consumption, but their training program allows communities to play a significant part in deforestation and produce fuel on their own.