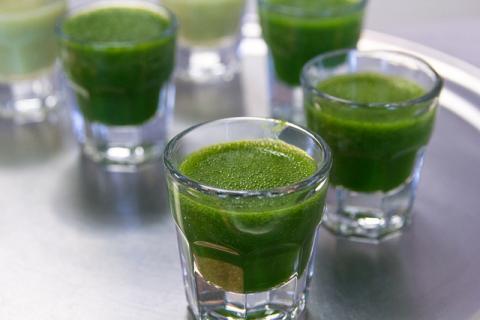 As far as raw foods are concerned, wheatgrass, or Triticum aestivum, is a potent ingredient that promises you a host of abundant health benefits. The young shoots of wheat are harvested before the stalks form a head with grain and contain no wheat gluten, but are considered by many health professionals and scientists to be naturally healing. The dark green superfood contains a highly concentrated amount of plant nutrients that contain antioxidant properties used to treat a variety of conditions and diseases – from arthritis to heart disease and even cancer prevention – while efficiently supporting the immune system. 
The history of wheatgrass traces back to over 5,000 years ago when ancient Egyptians and early Mesopotamian cities took notice of its positive effect on their overall health and vitality. Today, the natural herb is known to be rich in antioxidants like flavonoids, as well as electrolytes like magnesium and calcium, and amino acids that support the building blocks for all proteins in your body. Wheatgrass is also made up of potassium,  phenolic acid, iron, vitamins A, B, C and D, selenium, phosphorus and chlorophyll, which carry high levels of oxygen to your blood promoting the growth of red blood cells and the further spread of oxygen throughout your body.
Wheatgrass aids your body to neutralize harmful toxins and environmental pollutants by providing beneficial enzymes that help protect you from carcinogens, including Superoxide Disumates (SOD), and lessen the effects of radiation while cleansing your body from head to toe of any heavy metals, pollutants and other toxins that may be stored in your body's tissues and organs. The best way to consume wheatgrass is by juicing the stalks into a liquid and drinking it fresh within 15 minutes as a "wheatgrass shot." However, it is also manufactured and milled down into a fine powder and sold as pills, capsules or tablets.
The effectiveness of wheatgrass has been scientifically proven to treat ulcerative colitis, a chronic disease of the large intestine. According to a randomized, double-blind, placebo-controlled clinical study published in the April 2002 issue of the Scandinavian Journal of Gastroenterology, patients of the condition who were given 100cc of wheatgrass juice over a placebo showed a significant reduction in disease activity due to the antioxidant properties in wheatgrass.
Additionally, a laboratory study that examined the effect of water and alcohol-extracts of wheatgrass on a common human leukemia cell line looked at the changes in the levels of tumor cell death as well as changes in the DNA structure. It concluded that wheatgrass extract slowed down the growth of the leukemia cells and induced their death by a process called programmed cell death (apoptosis).  The wheatgrass extract had a high antioxidant activity and showed promise as a potential therapeutic tool against leukemia.
Integrating wheatgrass into your diet may improve overall health and wellness by facilitating your body's natural ability to heal itself. Be that as it may, wheatgrass is a raw food and therefore it's important you handle it with care as it is prone to foodborne bacteria or mold in rare cases, since it is grown in soil or water and consumed without being cooked. Growing wheatgrass at home in a controlled environment is a good way for you to ensure safe consumption. While it isn't meant to replace eating other fresh fruits and vegetables that also provide your body with a wide range of nutritional benefits, its high concentration of individual antioxidants and nutrients will support any deficiency in one easy to drink glass.
10 Major Health Benefits of Wheatgrass:
Helps Oxygenate the Body
Alkalizes the Body
Boosts Metabolism
Rebuilds Tissue Damage
Purifies the Liver
Improves Digestion & Immune System
Prevents Tooth Decay & Hair Loss
Reduces Inflammation
Aids in Sleep Regulation
Restores Fertility and Balances Hormones
Wheatgrass Smoothie Recipe
½ Banana
1-2 Tsp Wheatgrass Powder
½ Cup Mango
Handful of Spinach
1 Tsp Chia Seeds
1-1 ½ Cup Coconut Water and
 Add ingredients to a blender & drink
Photo Credit: "Wheatgrass shots Sip Juice Bar" February 23, 2012 2 by Steven Depolo is licensed under CC BY 2.0