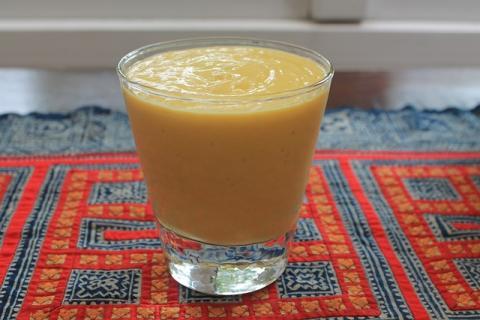 Golden milk, aka turmeric milk, has been a staple in Ayurvedic traditions for thousands of years. This powerful concoction helps to fight inflammation in the body and combat common illnesses including skin conditions like psoriasis, arthritis, headaches, diabetes, digestive problems, mood disorders and even Alzheimer's. Drinking this ancient elixir is like taking several powerful prescribed medications without all of the terrible side effects!
Not only is turmeric packed with anti-inflammatory properties, it's also known for its antiseptic and antioxidant properties and it boasts an abundance of vitamins and minerals as well, including calcium and fiber. Most of these benefits are derived from curcumin, which gives the turmeric its golden color (caution: it can also dye anything that it touches). Turmeric has been shown to be somewhat difficult for the body to absorb, so this recipe has combined the right ingredients to get the most out of this comforting powerhouse and an extra dose of nutrients from potent spices as well.
Golden Milk – The Recipe
Step One: Start with golden paste
Ingredients:
½ cup turmeric powder
1 cup spring or filtered water (+ ½ extra water if paste is too thick)
1.5 tsp. ground black pepper (to help the body absorb the curcumin)
5 tbsp. extra virgin olive oil or coconut oil
Directions:
Mix water (1 cup filtered water) with turmeric powder in a pan and slowly heat it up and stir for 6-10 minutes until you get a thick paste (add the additional ½ cup water if it is too thick).
Add black pepper and oil to the paste created in Step 1, and continue stirring until all the ingredients are fully mixed in together.
Allow the paste to cool. Store in the refrigerator in a jar for up to 1-2 weeks.
Step two: Now combine ingredients to make one cup of golden milk
Ingredients:
1 cup milk of your choice (making your own nut milk is recommended to avoid added chemicals and ingredients)
Raw, unfiltered honey (to taste)
Pure extra virgin coconut oil (leave this out if you use coconut milk)
Optional: organic ground cardamom and organic ground cinnamon
Directions
Heat the milk. Add the cardamom and cinnamon. Add the turmeric paste. (Generally, about 1/4 teaspoon of paste for each cup of milk is a good estimate, but experiment and see what ratio you prefer.)
Heat the mixture until steaming but do not let it boil. Give it a good stir and strain the cinnamon and cardamom and serve.
This comforting concoction is a great way to end your day and prep your body for a great night's sleep while also strengthening immunity and detoxifying the body.
This article does not substitute medical advice. Please consult your healthcare provider before beginning any new regimen.