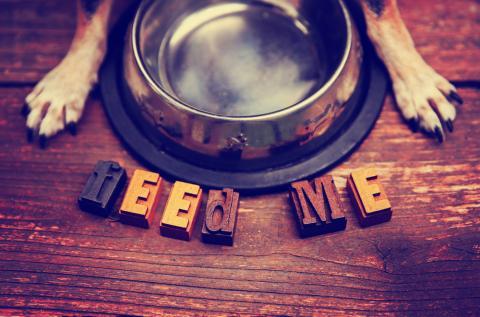 When your pup has allergies it can be a struggle to figure out the cause. My veterinarian and I have been working together for the last couple of years to figure out why my 11-year-old German Shepard mix keeps getting these recurrent infections in his ear. It took a lot of eliminating, not my pup's favorite part, but we have finally settled on a food regime that has helped. I cook it myself and he loves it!
My vet and I worked together to identify my pup's triggers and came up with the proteins that are used in traditional dog foods were causing the ear infections. At first I started cooking my dog's food as a treatment for his allergies, thinking that once we cured him, I could go back to buying kibble again and not have to make his food every week. But I realized after trying to go back to kibble several times and seeing his allergies return that it was time to accept my new role as his sole food preparer. 
I use a large slow cooker to prepare my dog's food. The convenience of throwing in all the ingredients, going to work, and coming home with a week's worth of dog food to put in individual containers and freeze is totally worth the extra space I had to make in my cabinets for the behemoth of a kitchen appliance. 
Fish is the key protein for my pup. All other proteins, including legumes, cause his allergies to flare up. So, I buy family packs of white fish, tilapia, and sometimes salmon as a base for his homemade food. I have been talking about getting my fishing license so that I could catch fresh fish for him, but I haven't made that happen yet. 
I love to cook, but I am an eyeballer. So, the following recipe can be tweaked and adjusted to what you have, and what your pup likes. I also love to save some kitchen scraps to throw in, like broccoli stems or carrot butts. 
Also, when cooking this yummy mix, the smell can take over your house, so placing the slow cooker outside or in the garage can help with the smell.
Homemade Dog Food Recipe
Yield: 1 week of two servings a day
Time: 8 hours 
Base Recipe:
6 fish fillets 
2 cups white rice
2 sweet potatoes, chopped
1 bunch kale, chopped
1 cup broccoli, chopped
1 banana
1 apple, chopped
3 carrots, chopped
1 can pumpkin puree (no sugar added)
3 Tablespoons kelp powder 
3 Tablespoons turmeric powder
3 Tablespoons coconut oil
Optional Ingredients:
4 fish oil tablets
CBD drops specifically for animals 
4 glucosamine pills (if you have an old dog like I do)
3 Tablespoons peanut butter (if your dog is not allergic to legumes) 
Instructions:
Combine all ingredients in a large slow cooker.
Cook on high for 6 hours.
Scoop out a serving for your dog to feed in the morning and evening.
Additional Cooking Notes:
Portions are based on your dog's weight. My dog weighs 78 pounds, so I give him 1 to 1-1/2 cups per serving. I was giving him 2 cups per serving and he was gaining a lot of weight, so this can take some experimenting at first. 
I have small reusable storage containers that I use for each meal. This way I can just open the lid and plop it in my dog's bowl and not worry about having a huge vat of fishy dog food that I have to store in my fridge. It's also convenient to freeze the individual containers for multiple batches. 
If your dog is suffering from recurrent ear infections due to allergies, this is a great solution, but be sure to discuss your plans with your veterinarian, as they might have additional insights.