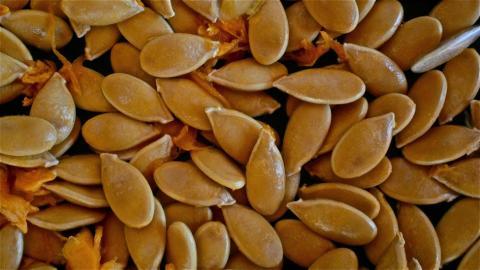 What to do with all those pumpkin seeds after carving is done? Roast them and eat them, of course! After cleaning off the seeds simply coat them in the seasonings of your choice and spread them out on a baking sheet to be cooked until golden brown (30-45 minutes, flipping halfway through) at 300 degrees Fahrenheit.
Sweet: Butter, Cinnamon & Sugar
There is nothing quite like the smell of butter, sugar and cinnamon baking away in a cozy house. Bring the fall season to life with this sweet seasoning for your pumpkin seeds.
Savory: Oil, Salt & Herbs
If sweet isn't your thing, try another classic combination: Olive oil, salt and herbs. I would suggest using an Italian-style seasoning which would include rosemary, sage, and thyme.
Spicy: Oil, Cayenne Pepper & Nutritional Yeast
Or maybe you're feeling a little spicy after carving that pumpkin? Turn up the heat with a cayenne pepper and nutritional yeast mixture. The yeast gives a nice thick texture and balances out the intensity of the cayenne.