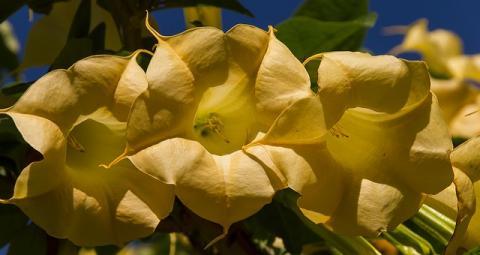 A blooming garden is a thing of joy. Unless you didn't know about these common toxic plants in your backyard!
Pretty flowers with heady scents, green leaves that spread lushness and whistling branches that sway in the wind – having a blooming garden is indeed a joy. But some of those blooming bushes may be downright dangerous for you, the kids or even your pets. So, sure -- we know about the deadly plants such as hemlock and nightshade. But normal, everyday garden plants and hedges sometimes pack a toxic punch too. Surprised? Here are 10 more surprises for you, in alphabetical order…
Aloe Vera
Okay, wait, what? Aloe is great for the skin, right? Right, but it's the gel inside the leaves which is great. Just below the outer leaves of the plant is a yellow juice known as its latex which contains a chemical called aloin.  Taken orally – this can cause diarrhea and if spread topically, a skin rash.
Anthurium
As uniquely pretty as the flowers may be, the leaves of this plant contain crystals of calcium oxalate. Children or bored pets may ingest the leaf which can then cause discomfort in the mouth and even anaphylactic symptoms such as the throat to swell up.
Azalea
As prized as it is for its hardy nature and blooming capacity, every part of the azalea plant is toxic to pets and humans. Even the honey from azalea plants is toxic and can impair muscle function, thereby affecting the heart and nerves.
Datura
Devil's Trumpet, Jimson Weed or strangely enough, even Angel's Trumpet are some of the names of this plant, rumored to have been smoked by one of the Hindu deities Shiva. An alkaloid poison in its leaves causes excitement, restlessness, depression and even delirium – a toxic garden plant indeed – blooms, flowers, fruits and all.
Easter Lily
Pretty as a picture, harmful to children and fatal for cats – the Easter lily is one plant that should be kept far away from inquisitive pets and tiny hands. For this toxic garden plant, curiosity can kill the cat.
English Ivy
The leaves are as toxic as they are pretty. Ingesting them can lead to vomiting, abdominal pain, hyper salivation and diarrhea. While ivy-covered walls look romantic, eating that ivy is so not.
Ficus
The Indian Rubber Tree as it's commonly known is toxic to a mild degree to small children. The sap of this toxic garden plant can cause mild to severe allergic reaction on the skin upon direct contact.
Foxglove
This rather pretty flowering plant is what a heart medicine is made from – ingesting any part of the plant can be very dangerous for us as well as pets.
Oleander
Commonly used in and around gardens, every part of oleander is extremely dangerous if ingested and can even lead to fatalities. Seek immediate medical help when it comes to this plant. 
Poinsettia
Not terribly toxic, no – but poinsettias have latex so anybody with a latex allergy should steer clear of these. Generally speaking, if you don't eat it – no issues at all. They can also be mildly toxic to pets.
Know of any more toxic blooms? Do share with us in the comment section below!