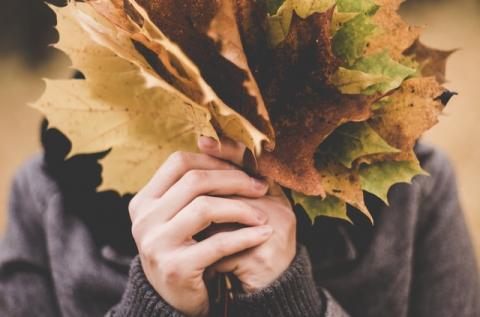 Even though fall can bring on colder weather, there are actually many vegetables you can still plant in your garden this season. Wondering what to plant in your garden this fall? I've got 8 plants for your autumn garden that are sure to make your fall harvest as amazing as the color-changing leaves!
1. Carrots
Carrots can grow pretty well in the fall. A favorite of mine to grow are the rainbow variety. It is recommended to begin sowing carrot seeds for fall between 10 to 12 weeks before the average frost hits your designated area. The carrots can stay in the soil, but ensure you pull them out before the first frost hits to prevent them from rotting.
2. Broccoli
This vegetable is awesome at putting up with frost, and actually thrives in cold, wet temperatures. In fact, autumn is said to be the best time to grow broccoli. Although it is said to grow a bit slower during the fall season, it can be great for longer harvesting. Most colder areas will require you to start planting your broccoli seeds in mid- to late-summer. Be sure to check your frost dates when figuring out seeding or transplanting times.
3. Radishes
Need a rapid growing plant for fall season? Radishes are your best bet. They mature quickly and grow really well in cooler weather, which makes them a great choice of vegetables to grow in autumn. In most areas, it is recommended that you plant radish seeds 4-6 weeks before the average date of your area's first frost.
4. Brussels Sprouts
Brussels sprouts are another plant said to flourish during the cold, frosty season. Warm and hot weather is said to actually open up the sprouts and cause them to become undesirable for eating. For areas with warmer fall weather, it should be possible for you to direct seed in mid-summer for a later fall harvest. If colder, germinate indoors and transplant 5-7 weeks before the first frost.
5. Kale
Like broccoli, kale is said to produce better crops in the fall because it does well in moist environments with low temperatures. In late summer, you can begin planting kale 6 to 8 weeks before the first frost for your fall harvest. Then, continue planting throughout the fall, if your winters do not get really cold in your area.
6. Lettuce
Let us grow lettuce in autumn! Lettuce, as well as greens, are known to handle the fall season exceptionally well. In addition to that, it can be ready to harvest in as short as 30 days. Lettuce can be directly seeded in late summer or as late as early fall, depending on the area.
7. Cabbage
This vegetable is excellent at adapting to low temperatures and is quite frost-tolerant as well. Choose from green, red, or purple varieties to add color to your garden. The seeds can be germinated in warm temperatures and placed in the soil during late summer or early fall before the first frost. This again is determined by the frost dates and temperatures of your area.
8. Lovage
Another name for this perennial herb is "love parsley." It is one of my favorite herbs because it has the combined taste of both parsley and celery. Lovage seeds can be directly sown during later summer or in the beginning of fall season.
See! It is possible for you to grow a good variety of plants and get that nice harvest this fall. Knowing when the first frost hits your area as well as your area's temperatures will really help make your autumn planting more successful. Please note that this information pertains to those growing in areas which generally have cooler and moister atmospheres during fall season.