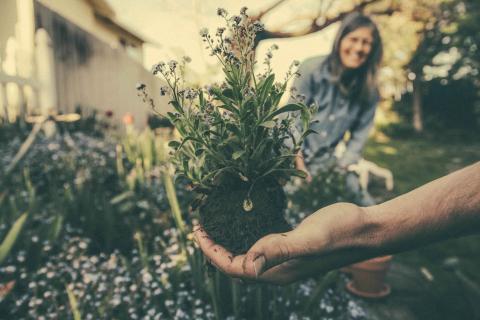 Sometimes, when people dabble in gardening, they get frustrated all too quickly and quit altogether. If your garden is not looking quite as nicely as you'd like it to, or you've come across a problem you can't seem to fix, don't convince yourself that you haven't been blessed with a green thumb just yet. Before you seek out a plethora of gardening chemicals, take a look around your house first. You may be pleasantly surprised by how many of your household items can be rather useful for many of your gardening needs. If you're interested in a beautiful, bountiful garden, I've got a few simple, safe, and fast tips for you that'll save you some money, while helping to save the environment, too!
With little effort, you can be a more eco-friendly gardener. Why look to chemicals when you probably already have numerous household items that can double as gardening go-tos?
Baking Soda: You probably knew you could bake and clean with baking soda, but did you know you can also use it to prevent powdery mildew and blight?  Use a baking soda solution (1 tablespoon of baking soda, ½ teaspoon of liquid soap, 1 gallon of water) once a week, in the early morning, and spray on well-watered plants. Remember to do this before it gets too hot, in order to avoid burning the plants.
Beer: If you've had a party recently, and happen to have some leftover beer lying around, this one's for you! You can put that beer to good use by putting it in your garden. By adding it to a ground-level container, you can get rid of all of those pesky slugs and snails. Like most of us, they're attracted to beer; little do they know, once they get close enough, they'll probably fall in and drown.
Epsom Salt: Did you know Epsom salt contains sulfate and magnesium? If you mix 1 teaspoon of Epsom salt into 4 cups of warm water, you've got yourself a great foliar fertilizer! Spray this solution on your plants (especially tomato and pepper plants) every 10 days to feed your plants and increase production.
Herbs and Spice: Hot spices (think cayenne), cinnamon, and rosemary all make wonderful insecticides. Sprinkle any of these onto the soil itself, or add to a spray bottle mixed with water, to get rid of all those garden pests. Yes, it is just like magic!
Garlic: Spraying a garlic and water mixture can act as both an insect and a vampire repellent. Again, amazing, I know.
Vinegar: It's only natural for everyone to despise pulling weeds. Luckily, I have a natural herbicide that does just the trick. Don't let those weeds control you any longer. Just use vinegar  or apple cider vinegar to show them who's boss. However, don't be reckless with it because it can kill surrounding plants, too.