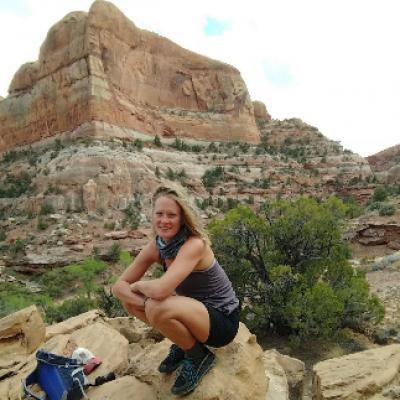 Like many of us, Reiki Master JoAnne Palladino is no stranger to fear. She has spent nights covered in sweat, mired in confusion and anxiety, wondering if the sun would come up in the morning. Her fears were not unfounded: her life's journey led her onto a path whose destination was completely unknown.
However, JoAnne's story is not about fear. It is about courage. Specifically, the courage that it takes to surrender and to trust in one's inner calling.
JoAnne's sacred journey, from a career as a successful New York businesswoman, to becoming a Reiki master, channel, and intuitive, did not happen overnight. Indeed, it took years for her transformation to even begin to make sense to her—and is an ongoing process to this day. As JoAnne's friend and client, it has been amazing to witness her expanding expression of her intuitive gifts. Her work has had a profound impact on me, which inspired this article and interview.
The story of JoAnne's transformation, which she shares in the forthcoming Q & A session, is intended to inspire confidence and faith in those of us undergoing (or resisting) similar transformations. She reminds us that healing, wholeness, and limitless creativity are possible, no matter what. No matter where we are starting, or how chaotic outer circumstances are. Healing is possible, no matter what.
Claire Boyce: I've known you for several years on your healing journey, how did it first unfold for you?
JoAnne Palladino:  It feels like a lifetime ago when my journey began. It began in 1997, when I was working in the health insurance field.  I was building self-confidence while simultaneously carrying the burden of never feeling good enough. In spite of emotional baggage and only having my B.A., I successfully climbed the corporate ladder.
CB: So you felt pride and accomplishment, but at the same time, you felt like it wasn't enough?
JP: I felt like I was never good enough. I compared myself to others with impressive degrees from prestigious schools, and while they were my peers, I wondered…"Why am I here?"
Even with a loud inner-dialogue of self-criticism I was able to flourish in corporate life. It was 1997 when my awakening began, and up until that point I was not connected to spirituality, completely unplugged from the metaphysical world.
I was on a successful business path—and I loved it. I was very proud of my accomplishments, yet at the same time, I was afraid and anxious.
CB: Can you speak to where that anxiety came from?
 
JP: I feel it started in the womb, so it was pre-birth. My mom had the tendency to be anxious, and the baby in the womb, which was me, felt it.
During the birthing process, we both nearly died, so coming into the world was literally a matter of life or death.
From the beginning of my life, I was in survival mentality and anxiety was a constant in my inner world but I hid it really well in my outer world.
CB: So in 1997, you were first becoming aware of your gifts. What was that like?
 
JP: The universe pulled the rug from out under me. Little did I know how my life was going to change. The awakening was jarring to the point that I could not function. I was out of work for months. I couldn't eat, think, sleep and it was difficult for me to engage in life.
I experienced a breaking down of old behaviors and beliefs, a stripping away to make space for my re-birth. My old-self was dying and the process lasted for a few years.
My old identity was disintegrating and I was frozen in fear of the unknown. I worked for a national health care company so I had every kind of medical test you could imagine, waiting to hear what was 'wrong' with me. The test results always came back normal.
The breaking down of my old self continued. Unexpectedly, a friend heard about what was going on with me and introduced me to Dr. Jack. This 83-year-old naturopath, nutritionist, and chiropractor was a blessing. I called him my Zen master.
Dr. Jack's care and guidance drastically shifted my life. He introduced me to holistic medicine, organic food, and yoga. He encouraged me to engage in life in a way I never had: to be awake and mindful. I was in my 40s when my spiritual transformation started to unfold. My healing journey became my devotional practice.
After a few months, I returned to work. It became clear to me that I did not belong in the corporate setting any longer. Energetically I was shifting; my soul's purpose was beginning to surface. The 'awakened' aspect of me was surfacing.
Eventually, I realized that emotionally, mentally, and physically, I couldn't work at my job any longer. I took a leap of faith and left. I was making close to six figures so the decision to leave was significant. There was fear within me but something inside spoke louder, and I feel it was my soul that I paid attention to.
 
CB: It seems like a dark night of the soul, where everything is broken down, putting you at a place where you're so vulnerable that you have no choice but to look at other options.
 
JP: Absolutely, it cracked me open. Through this process, I was going to therapy, to deal with what was going on with me, and things manifested spiritually and physically—this breaking down took a toll on my body and my psyche.
One of things that I began to experience was feeling energy and heat radiating from my hands. I asked my therapist "What's wrong with me now?" This is when I was introduced to energy medicine, and I began to explore Reiki, and other modalities. That's how I stepped into it, still having no idea what was unfolding.
 
CB: Did you ever feel grateful, but at the same time, frustrated, and almost like you had no choice in it?
 
JP: It took a while to feel grateful, because I was still very fearful of what I was going through, literally 'going through.' My awakening process continued to challenge all aspects of my being as the 'old self' died off.
It took years to understand what was happening, to heal the feelings of not being good enough, to learn to look inside of myself instead of outside for fulfillment and happiness.
 
CB: Has this healing process been one of the most challenging undertakings in your life?
 
JP: Early on it was quite a challenge. I have experienced multiple awakenings where I'm stripped down and cannot function. Now I have a deeper understanding of what is unfolding; it's more graceful. I no longer resist what I am experiencing; I surrender to the process. The healing-awakening process is a challenge and a blessing at the same time. It's allowed me to be the healer I am today: to extend my gifts to others so they too can realize theirs.