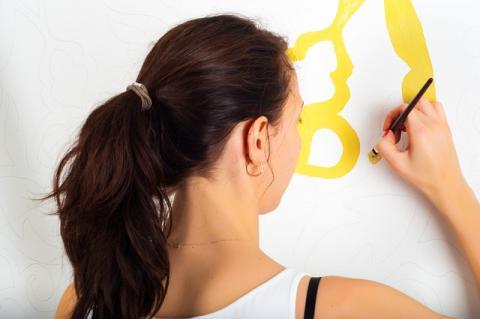 If you want your walls to spread joy and make you and everyone at home happier, then here is what you need to do…
What makes a house become a home is the way we live in it. Our little efforts of personalization, our décor quirks and our likes and dislikes of colors and patterns slowly make our home take on a persona of its own. Sometimes, when we are going through a bad phase in our lives, our homes reflect the same with our choice of dull and drab décor – especially when it comes to the walls. And when we are finally emerging from that depressive phase and looking forward to happier things, our home can actually bring us down a bit – the dullness of our space or the drabness of our walls can seep into our hearts easily.
So here are a few things you can do to brighten up those walls and let your home spread joy to you, as well as to visitors…
Go Crazy With Color
One of the easiest ways to change the way a room looks, or how it makes you feel, is a fresh coat of paint or even a bright wallpaper. You may have wanted a sophisticated look when you chose that soft gray or icy green but pastels can sometimes make you morose. Opt for a brighter color, and in case you have décor doubts, just do up a single accent wall instead. The warmth of a color will gladden your heart.
A Painting You Really Like
Sometimes you can literally feel a painting calling out to you – it may be an expensive original, a dirt-cheap bargain or even nothing but a clever copy of a masterpiece. The thing is, it is art for you and it makes you happy – it may not exude grandeur or drip money, but hey, beauty always lies in the eyes of the beholder. Hang it up where it can catch your eye and make you feel pleased about it.
Change the Drapes
Drapes letting in too much light, or making your world seem dreary? Light affects the mood and so curtains can sometimes interfere with us trying to be happy. Rip them off and get some new colorfully zany ones that do let in the light but shine with joy even at night.
A Photo Corner to Brighten Your Heart
Photos are memories. We often forget to relive our glory days – those first moments we were madly in love, the joy of a newborn child, or the chaotic fun of a family vacation… All you have to do is create a photo wall – choose the pictures that put a smile on your face, blow them up, and hang them on the wall in quirky, unmatched frames. Your smile will be that much brighter every time you pass them by.
Graffiti Up
Are you talented with a paint can? Or have a friend who is? Give free reign of creativity to at least one wall or corner of your home – it may be the corner you shed the most tears in or the wall which once held treasured photos that are just too painful now. Paint up that wall with whatever brightens you up and gives you strength – could be creatures, could be fairies, could be just about anything you want on your wall!
Get Some Fairy Light Magic
Dig those Christmas lights out of storage – just a string or two is enough. Arrange them on the wall the way you like, or let them twine around a drape. You can even put a thinner string inside a bottle and use it as a lamp. Light -- and colorful lights, at that -- have this way of chasing the darkness away – inside your home, or inside you…
Quirky Posters and Objects
Think only paintings and photos can decorate a wall? Think again. How about that seashell you picked up the last time you were on a trip? Or that treasured old plate you have – a memory of your grandma? Or how about that ancient bronze mirror you have been lugging around since a tot? Get it? Anything that makes you happy, get it out, get it framed and put it on the wall. Try a shadowbox if you want to give a collection of 3D objects a home on your wall.
We'd love to hear your wall décor ideas for happiness – do write to us in the comments section below. Till then happy homes, for a happier you…