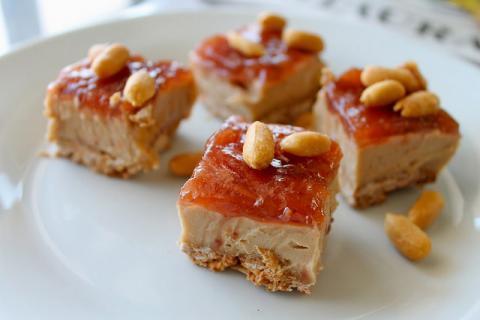 Ah, the humble PB and J. The sweet and peanut-y sandwich combination that continues to win the hearts of kindergarteners and adults alike. These days you can find peanut butter and jelly in everything, such as pancakes, cupcakes, ice cream, even poutine!
In addition to its versatility, peanut butter is high in protein, containing 5g for every 1 tbsp; that's impressive! It's relatively low in carbohydrates and contains good amounts of magnesium, vitamin E and B6. It's good to remember though, that peanut butter, although healthy and delicious, is pretty high in fat. Although it contains "good" fat (monounsaturated), it's still quite a significant amount. Make sure you're conscious of your consumption of this buttery spread –  a heaping spoonful is a good serving size!
I always like to find ways to stick peanut butter into desserts and discovered that when combined with coconut milk, it makes for a velvety, delectable mousse!
Recipe:
Makes 12 squares.

For Crust:
1/2 cup oats
1/2 cup spelt flour
2 tbsp coconut oil
2 tbsp agave nectar
For Filling:
1 full can coconut milk (full fat)
1 cup natural peanut butter (smooth, unsalted)
1 tsp vanilla extract
1/2 tsp salt
1/4 cup evaporated cane juice
1/4 cup agave nectar
Stevia (to taste)
Strawberry jam + 1 tsp lemon juice
Combine ingredients for crust, pat into a 9 X 9 cake pan, and bake on 350F for 20 minutes. Combine all ingredients for filling together and stir until combined. Once crust is cooled, pour filling into crust and chill in fridge over night or at least 6 hours. Once chilled, spread on jam, sprinkle with peanuts, cut into squares and enjoy!
Photo Credit: "pbj_1" by Jaclyn Enchin is licensed under CC BY 2.0
Source:
 http://nutritiondata.self.com/facts/legumes-and-legume-products/4453/2