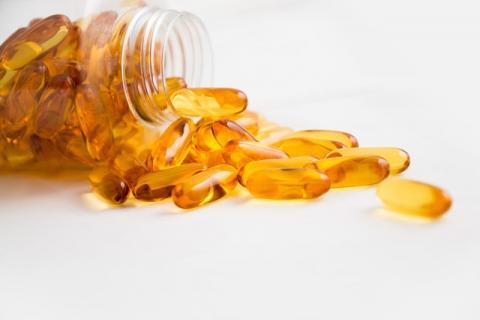 Most everyone has heard now that omega-3 fatty acids are beneficial, especially since researchers at Harvard University in 2009 reported omega-3 fatty acid deficiency as one of the top 10 causes of death in America. While, of course, eating a diet high in fish is the most natural way to balance out that deficiency, those who are vegetarian, or simply don't like seafood can also take fish oil supplements.                                                 
Different fish oil supplements, however, provide different dosages of fish oil, and some even report inaccurate amounts of eicosapentaennoic acid (EPA) and docosahexaenoic acid (DHA)—the two omega-3 fatty acids found in oily fish such as salmon, halibut, sardines and anchovies that provide the most benefits. A regular intake of at least 500 mg of EPA and DHA can play a positive role in your health, according to the American Heart Association (AHA); however, the U.S. Food and Drug Administration recommends not exceeding 3 grams of EPA and DHA omega-3 fatty acids a day. That being said, doctors often recommend 1000 to 1200 mg of fish oil to guarantee a healthy amount of omega-3s in your regular diet. And here are five reasons why:
Cardiovascular Disease: The AHA reported studies that show omega-3 fatty acids have anti-inflammatory properties and are therefore effective in reducing heart diseases as well as helping lower cholesterol and blood pressure levels. In a recent report, the AHA found that taking a high dose of omega-3 fatty acids from fish oil daily for six months after a heart attack improved the function of the heart and reduced scarring.
Osteoporosis: Research from the University of Maryland Medical Center suggests that omega-3 fatty acids can increase levels of calcium and improve bone strength. Some studies also found that a diet lacking in essential fatty acids can be connected to bone loss.
Alzheimer's Disease: For several years, fish oil has been recommended as a vital source of brain functionality and can help slow cognitive decline as well as prevent brain atrophy in older adults.
Arthritis: According to the University of Maryland Medical Center, studies found that fish oil helps reduce symptoms of rheumatoid arthritis, including joint pain and stiffness. A diet rich in omega-3 fatty acids also may help people with osteoarthritis.
Eye Disorders: Fish oil has been said to help with dry eyes and even age-related eye disorders such as cataracts, as shown in the 2015 study, Ocular Nutrition Impact on Tear Film (ONIT).
While there can be dangers, especially among older adults, in taking fish oil supplements, those are mainly caused by excessive intake beyond the FDA's recommendations. Like other dietary supplements, fish oil can interact with prescription drugs, over-the-counter medications and other supplements, as well as food. That is why it is important to tell your health care providers about all of the dietary supplements, such as fish oil, that you use.