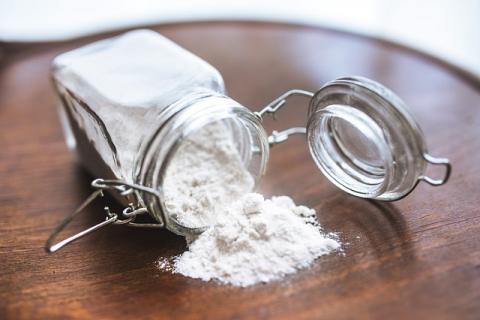 My hair tends to be pretty oily if I don't wash it (even after one day!). But here's the thing: When I do wash it every day, it dries out! That's why I've found the perfect solution: Dry shampoo. Every other day I'll use dry shampoo instead of washing my hair. This keeps my hair in balance and allows it to not look too dry or too oily. Dry shampoo is great for people like me who have very sensitive, fine hair, but you can still use it on thick hair, too. It's fantastic at getting the grease out of hair and, unlike its chemical-filled counterparts, this recipe won't leave your hair sticky or smelly. That's because it's all-natural and powder-based. The best part? It's super easy to make. 
Ingredients: 
1/3 cup carob powder (exclude if you have light hair) 
2 tablespoons of dried chamomile flowers 
25 drops of essential oil (lavender works well) 
2 tablespoons of organic dry oats 
1/3 cup arrowroot powder/flour 
½ cup cornstarch 
Note: You will need a blender for this, just FYI. 
Directions: 
Add all the ingredients in a big bowl, mix well.  
Add them to a blender and pulse until completely mixed. Stop when it looks powdery (it will probably have a greyish color to it). 
Package it! You can do this many ways, but I recommend upcycling your old shampoo, lotion, or even salt and pepper shaker jars. When all else fails, use a mason jar. Just pour the mixture into the jar and ta-da!: You now have dry shampoo! To use, simply rub some into your hands and then apply directly to your hair. You can even use this as an overnight "shampoo" treatment and leave it in your hair as you sleep: You'll wake up to stunning locks!