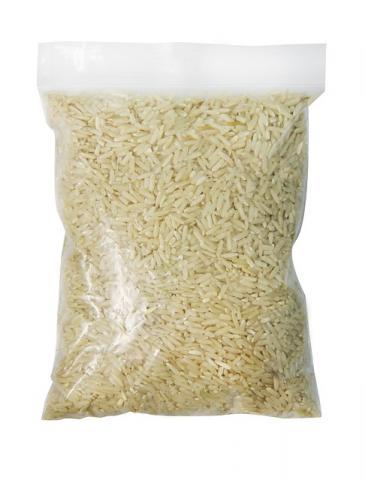 Our species produces an incredible amount of plastic, which results in widespread plastic pollution. Nicole D'Alessandro of EcoWatch reports that, "over the last ten years, we have produced more plastic than during the whole of the last century." One bright light in this problematic situation is the invention of platinum silicone reusable bags, which can replace throw-away plastic sandwich and storage bags. Sili Solutions is run by Canadian husband and wife team Andrew Stromotich and Carolina Parker, and they ran a successful Indiegogo campaign for the reusable 1.5-liter silibagz bowl bag and silipouches they invented. They created sililid sealers as well, which can seal jars, save a piece of fruit for later, or be used for muffin baking. They also launched a second campaign for a new platinum silicone bag called bbagz.
Bbagz are 100% platinum silicone and are flexible, durable, and waterproof when clamped shut. Silicone is a man-made rubber consisting of silicon and oxygen, and here are a few reasons it is a more environmentally friendly bag choice than a typical plastic bag: silicone bags are longer lasting, washable, and reusable, so they do not result in the enormous plastic pollution that standard plastic bags do. Silicone bags are also BPA, PVC, and phthalates free—all of these chemicals, commonly found in plastic products, are toxic to the human body and the environment.
Stromotich and Parker explain that bbagz can be frozen, heated in a microwave or oven, or boiled, and when the clamp is removed, they are dishwasher-safe. They are available in both colorful and clear varieties, can withstand -60 degrees Fahrenheit to +400 degrees Fahrenheit, and are very useful in your fridge, cabinet, cooler, or on a camping trip. The makers also share that "bbagz [can] replace 200 non-recyclable zipper lock bags in one year in a child's school lunch, creating savings in their very first year!"
Stromotich and Parker are parents, activists, back-packers, and zero-waste enthusiasts who want to make a positive impact on the world. They believe in creating open-source waste-reduction solutions and in removing as much plastic as possible from their production efforts. For silibagz, they removed all of the PVC shrink wrap from production and all but 1% of the plastic bags involved. Sili-products are delivered in 100% recyclable boxes. Stromotich and Parker feel that other applications for bbagz include commercial delivery, food truck usage, and serving as a non-toxic cooking option for families around the world who lack adequate safe cooking tools.
These bbagz can take the waste and guilt out of convenient food storage and will likely make great holiday gifts for environmentally-minded friends and family. You may be wondering what else this inventive couple has in the works—their projects in development include solar ovens, solar lights, and customized heaters that transform silibagz into heated cooking bags. In late 2016, they are also launching the brand LUUMI Life, which will include platinum silicone bowls, bags, lids, and straws, and seeks to "unplastic the world." You can read customer reviews for Sili Solutions' products on the bbagz Indiegogo campaign, which reached full funding in the summer of 2016. Follow Andrew Stromotich on Twitter @silibagz.